<<< Back To Alpharetta Real Estate & Homes For Sale
About The City Of Alpharetta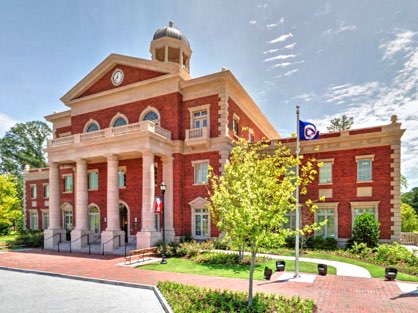 Located in north Fulton County just off of GA 400, the city of Alpharetta has been a popular area since its founding in the mid-1800s. Originally called the New Prospect Camp Ground, Alpharetta was a trading post that was chartered as a city in 1858.
The name Alpharetta is rumored to be a variation of the name Alfarata, the main character in the song The Blue Juniata, as well as the first letter of the Greek alphabet.
Through the years, Alpharetta has gained a reputation as a business capital, with numerous companies calling the city limits home base. ADP, Comcast, Ernst & Young, Hewlett-Packard, Publix, and many more large companies have either their corporate offices or a major branch in Alpharetta. Additionally, Alpharetta has become a shopping mecca, with North Point Mall and Avalon dominating the retail landscape.


A Great City For Families
A family-focused city, Alpharetta has many annual events, concerts, and festivals that draw crowds from all over the Metro Atlanta area. Verizon Wireless Amphitheatre at Encore Park is a popular spring and summer destination, and the Downtown Alpharetta Historic District offers numerous restaurants and boutiques.
The Alpharetta Big Creek Greenway is a popular outdoor destination for those who love to jog, hike, or bike. The North Point Mall area also provides plenty of shopping and dining options. Outside or inside, historic or modern, Alpharetta is an all-encompassing city with plenty of interesting things to do and see.


Popular Local Parks & Recreation
The Alpharetta Community Center offers basketball courts and picnic pavilions. Cogburn Road Park features a playground, hiking trails, and picnic pavilions. The Alpharetta Equestrian Center is a popular area that offers horse shows, rodeos, and the occasional concert. There are also numerous covered and uncovered riding areas, eight barns, almost 300 stalls, and a camping area.
North Park offers visitors hiking trails, a playground, a baseball diamond, football field, and tennis courts, as well as a picnic pavilion. Union Hill Park has an excellent inline skating hockey court, a real draw for the community. The Windward Soccer Complex has numerous soccer fields along with a youth soccer team. The Wacky World Playground is a huge development of slides, monkey bars, bridges, towers, and swings, perfect for any child to have the time of his or her life. Sandboxes, for the smaller child, are available as well.
The Waggy World Paw Park is a popular dog park, close to the Wacky World Playground. Webb Bridge Park is a large area with forest, hiking trails, playground, and sports fields and courts of all kinds, as well as picnic pavilions. Wills Park is one of the largest in Alpharetta, with a community garden, forests, playgrounds, sports fields and courts, and hiking trails.


Shopping, Dining & Entertainment
North Point Mall is located in Alpharetta just off GA 400 between exits 8 (Mansell Road) and 9 (Haynes Bridge Road). Near the mall are two movie theatres and an ice/roller skating facility. For a change of pace, be sure to visit Queen of Hearts, a 30,000 square foot store with antiques and collectables on Main Street.
Alpharetta has over 150 restaurants throughout the city. Whether you're looking for something sophisticated, trendy or anywhere in between, you can find it in Alpharetta. Once you've gotten a bite to eat, check out a concert at the Verizon Wireless Amphitheatre at Encore Park. This 12,000 seat facility opened in 2008 and is an outstanding outdoor venue.


Avalon Mixed-use Development
Avalon is the newest and most popular Alpharetta destination for shopping, dining, and entertainment. There is more than 570,000 square feet of restaurants and retail space, 800 apartment homes, and 750,000 square feet of office space. A true live/work/play community outside of the perimeter, Avalon offers visitors a complete experience.
Developers left nothing undone, with stone walkways, dramatic architecture, and thoughtful décor and touches not found elsewhere. From a Bocce court to a community fire pit and a dog park, Avalon is in tune with what its residents and visitors desire. Phase 2 is in the works, with a separate office building, rental homes, and a hotel planned.


Annual Events
Alpharetta Arts Streetfest - A yearly celebration of the arts in the Alpharetta Historic District. This festival features live jazz and activities for children.
Alpharetta Food Truck Alley - This "feast on the street" takes place on Old Roswell Street every Thursday from 5PM-9PM, April through October.
Annual Tree Lighting Celebration - In addition to lighting the holiday tree, this celebration also includes musical performances, movies, food trucks and more.
Mayor's Challenge 5K & Block Party - Sponsored by the Rotary Club of Alpharetta, this event takes place in downtown Alpharetta each August.
Old Soldier's Day Race/Parade - The day starts with an early morning 5K and 10K race and is followed by a parade to honor veterans of all wars.
Scarecrow Harvest - Beginning on the last day of September, scarecrows created by students, businesses, nonprofits, etc., line the streets of Alpharetta to celebrate the arrival of fall.
Taste of Alpharetta - Over 60 restaurants provide food for this annual May event. There is also a music stage and fun zones for kids.
Wire & Wood Songwriters Festival - This event debuted in 2013 in downtown Alpharetta. It features local and national touring songwriters.

Demographics And Lifestyle
Alpharetta is a richly diverse community that was voted Best Place to Move several years in a row. The population reaches almost 70,000 and is still growing, thanks to the robust business district and family-feel. During a regular workday, the population increases to 120,000 workers and visitors, due to the number of businesses, shops, recreation, and dining.
27% of the population is under the age of 18, 7.2% ages 18-24, 40.5% age 25-44, 19.4% from 45-65, and 5.8% of the population is over the age of 65. Median household income is around $95,000. The school system is under Fulton County Schools and features almost 20 elementary schools, 11 middle schools, and 11 high schools. Seven private schools call Alpharetta home, as well.


Blog Posts You May Enjoy...