<<< Back To Norcross Real Estate & Homes For Sale
About The City Of Norcross, GA.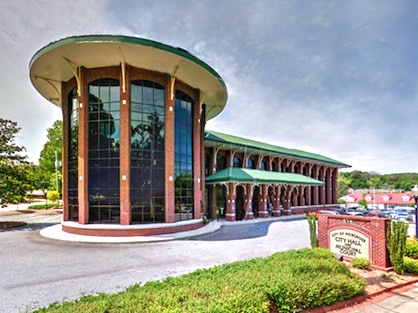 The history of Norcross reaches back to October of 1870, when the area was first chartered as a town. Both the Creek and Cherokee Indians lived on the land that would eventually become Norcross, and a trail was developed on what is now Old Peachtree Road.
Eventually two American forts were built during the war of 1812, and they used these same trails as an easy way to travel between the two buildings.
In 1840, the trail had become a major stagecoach route that connected South Caroline and Alabama; thus, the surrounding communities grew. The railroad entered the picture in the late 1860s and brought with it the development of now historic Norcross, known as Gwinnett County's second oldest city.
Modern Day Norcross
This railroad is still used today, running parallel to Thrasher Park, and historic Norcross is a favorite destination for many. Shops and restaurants line the street, as well as some historic homes, businesses, and parks. Norcross itself has grown outwards to include areas from I-85 to the south, Jimmy Carter Boulevard to the west, and Peachtree Industrial Boulevard to the north. Numerous corporations call Norcross home, and residents are just as loyal. From numerous parks to amazing annual events, Norcross is one of Atlanta's favorite cities.


Parks & Recreation
For such a small city, Norcross has an amazing number of parks available to both residents and visitors. Some of the city's great parks include:
Betty Mauldin Park - This park has the second tallest elm tree in Georgia! A small park, Betty Mauldin Park has green space and benches for visitors to sit and enjoy nature.
Heritage Park - A pocket park, perfect for small weddings, receptions, or parties. Benches are strategically placed so visitors can enjoy the cozy environment.
Johnson-Dean Park - A park that is more of a walking trail that has been recently updated by volunteers. A quarter-mile loop showcases a stream, 100+ year-old beech, tulip, and poplar trees, and local wildlife.
Lillian Webb Park - This park features a gazebo, interactive splash pad, and a volleyball court, as well as a large green space and event facilities.
Rossie Brundage Park - Offers baseball and softball fields, a basketball court, grilling areas, a pavilion, picnic tables, and a playground.
Thrasher Park - This park has undergone many changes throughout the years, but its final form is the best. An amphitheater provides space for special events and live music. Don't miss the gazebo, grill, pavilion, picnic tables, and the playground.

Shopping, Dining & Entertainment
If you drive along Holcomb Bridge Road or South Peachtree Street, you'll find yourself in the quaint square of Historic Norcross. Numerous shops and restaurants are available to visitors including Dominick's, 45 South Café, Iron Horse Tavern, and Mojito's Cuban American Bistro. Several boutiques call Historic Norcross home, as well, including Chalk It Up Norcross, Details Boutique, and Taste of Britain.
There are also several live music venues and special event venues available for any special occasion. If you travel a little further onto Buford Highway, you'll find plenty of delicious ethnic foods and shops, from South American to Latina to Asian.


Annual Events
BluesBerry Music & Beer Festival - Local blueberries, craft beers & some of the best blues musicians in the region are on hand each year for the BluesBerry Festival & BrewFest in downtown Norcross.
BOOfest - Halloween fun takes on a new twist, with Day of the Dead festivities, and African and Gullah magic thrown into the mix. Free kids' costume parade w/ prizes, a bike decorating contest. Storytelling & free craft projects for kids; adult fun, including tequila tastings, face painting, costume contests, a mask-making workshop and more.
British Car Fayre - See vintage vehicles and eat British treats in this September event in downtown Norcross.
Classic Car Show - Located in downtown Norcross each May, this event brings out many car enthusiasts.
Community Easter Egg Hunt - This event occurs every April at Rossie Brundage Park.
First Friday Music Night - During the first Friday in February, March and April, the Norcross Cultural Arts Center presents a different type of music performed each month.
Independence Day Celebration - Annual family fun throughout the downtown area on July 3rd with live music, splash fountains and ending with one of the best fireworks displays in Metro Atlanta.
Jazz in the Alley - A seasonal concert series sponsored by the Norcross' Downtown Development Authority showcasing various Atlanta-based jazz musicians with musical backgrounds in funk, hip-hop, R&B and folk. The outdoor event is free to attend and patrons are encouraged to bring chairs, picnic baskets and their favorite beverages.
Norcross Arts Festival - The popular Art Fest takes place in October in of downtown Norcross. Whimsical and wildly colorful artisans from across the country exhibit their imaginative artwork amidst the shops, eateries and boutiques in the City of Norcross. The Norcross Art Fest won the award for "Event of The Year" by the Gwinnett Convention and Visitors Bureau and also "Best Festival" by the readers of Inside Gwinnett Magazine for 2010, 2011, 2012 and 2013.
Sparkle! - During this 2 week event in December residents light the Community Christmas Tree, and enjoy carriage rides. Also, Santa's Workshop, photo opportunities with Santa & lots, lots more.
Summer Concert Series - From late May through late August, enjoy about 10 concerts at Thrasher Park.
Valentine Wine & Dine - It's a singles mingle, a fabulous first date, a celebration of ongoing love for two. This event takes place on Valentines Day in downtown Norcross. Enjoy sips of sparkling champagne and yummy chef specials, shops filled with the perfect gifts, plus the Town Judge will be in front of the coffee shop renewing vows (you can get married, too!) Then take a ride in a white horse-drawn carriage.

City Demographics & Lifestyle Trends
Norcross has a population of around 9,000 people. 40.8% are white, 19.8% African American, 10.7% Asian, and 39.4% Latino. There are 2,644 households, 33.6% of which have children under the age of 18 while 45.3% are married couples. 22.7% of the population is under the age of 18 while 14.8% age from 18 to 24.
40.9% are aged from 25 to 44, 15.5% from 45 to 64, and 6.1% of the population is over the age of 65. Median household income is $44,728 and median family income is $42,893. Corporations that call Norcross home include Rock-Tenn, RentPath, Institute of Industrial Engineers, The Athlete's Foot, and Waffle House.


Blog Posts You May Enjoy...