<<< Back To Roswell Real Estate & Homes For Sale
About The City Of Roswell, GA.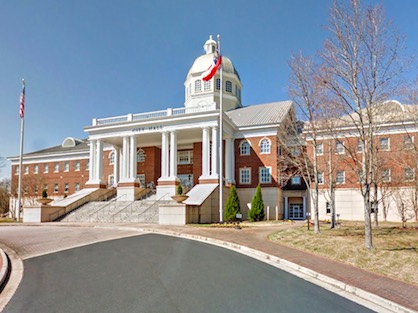 Roswell, Georgia's seventh largest city, is located to the north of Downtown Atlanta, and just off the banks of the Chattahoochee River. An affluent northern suburb of Atlanta, Roswell has twice been chosen by Atlanta Magazine as the best place to live in the metro area.
In addition, the city of Roswell has been ranked one of the safest cities to live in the United States according to City Crime Rankings.
The city is known for not only its robust historic district, but also its bustling downtown area and numerous recreational areas and parks. Several large corporations have landed in Roswell, including The Kimberly Clark Corporation, Snorg Tees, Tripwire Interactive, and the Consulate-General of Honduras in Atlanta.
City History
The city's history reaches back to 1830 when founder Roswell King decided that Vickery Creek would be an excellent place for a cotton mill. Eventually, he built Roswell Mill, the largest mill in North Georgia, and brought 36 slaves from his own plantation plus 42 carpenter slaves to build the mill. As a result, the unique Geechee culture was brought into North Georgia. Many investors joined King at the mill, and their homes are still standing and open to the public for tours and events.


Parks & Recreation
Roswell's recreation and parks services are second to none in the State of Georgia. From the hundreds of programs offered to residents to the City's beautiful trail system, no other park system in the state matches Roswell's. Roswell has 890.38 acres of parkland, 10.5 acres per 1,000 residents. The Roswell Recreation & Parks Department is nationally accredited and has been recognized an unprecedented eight times by the Georgia Parks & Recreation Association for having the best department in the state.
Azalea Park - The park is located on the shores of a large lake, and thus, many lake activities are available, including fishing and boating. There are also picnic areas, a playground, and walking/hiking trails.
Big Creek Park - Located just off of Old Alabama Road, Big Creek Park features river/creek access, biking, walking and hiking trails.
Don White Memorial Park - This park has a canoe/kayak launch and fishing docks, as well as outdoor fitness equipment, picnic areas, trails, and a volleyball court.
East Roswell Park - This is a large park that features many activities, including disc golf, an art room/studio, a dog park, fitness center, garden, lake, picnic areas, playground, rec center, and numerous sports fields. There are also many hiking and walking trails available.
Garrard Landing - Boasting a canoe and kayak launch, Gerrard Landing is well known for its fishing spots. Additionally, visitors can find a picnic area, playground, and trails.
Grimes Bridge Park - Home to numerous soccer fields, Grimes Bridge Park also has a rec center and a concession stand.
Hembree Park - One of the most popular outdoor spots in Roswell, Hembree Park has baseball fields, tennis courts, a campground, concession stand, picnic areas, playground, and a rec center. Visitors should also check out the walking and hiking trails.
Leita Thompson Memorial Park - Located off of Woodstock Road, Leita Thompson Memorial Park boasts an art room and studio, dog park, fishing, a garden, and walking/hiking trails.
Old Mill Park - A lovely area near the historic Roswell Mill, it offers plenty of walking and hiking trails.
Riverside Park - The park is home to many Roswell concerts on its outdoor stage, as well as a canoe/kayak launch and fishing spots. There are also picnic areas, a playground, a sprayground, and plenty of trails.
Roswell Area Park - Here you'll find an art room and studio, a sports center, numerous sports fields, and a pool, playground, and lake. There are also numerous picnic areas and walking trails.
Sloan Street Park - A small park with picnic areas and a playground, as well as a brick paved section with benches.
Sweet Apple Park - A popular family park because of the baseball and soccer fields, as well as the concession stand, playground, and walking/hiking trails.
Town Square - Located in the heart of Roswell, this greenspace features an outdoor concert stage and picnic areas, as well as easy access to all of Roswell's shops and restaurants.
Waller Park - A gorgeous park with baseball fields, picnic areas, a playground, rec center, and river/creek access.

Shopping & Dining
Roswell is about 10 minutes from North Point Mall in Alpharetta and 15 minutes from Perimeter Mall in Dunwoody. However, most residents and visitors shop and dine in historic downtown Roswell. The downtown area is something you don't want to miss; loved by many for its boutiques, restaurants, parks, and cultural arts center.
Storefronts of the historic district blend-in throughout the city. A varied selection of items in a delightful setting, mixed with friendly service and warm smiling faces, makes shopping in Roswell a great experience. Roswell is also a true "foodies" destination. You will find everything from continental cuisine, down-home cooking, southern BBQ, cozy tea rooms, sidewalk cafes to elegant dining.
In addition, the city is home to many historic homes and buildings, including Archibald Smith Plantation Home, Bulloch Hall, Barrington Hall, Faces of War Memorial, Atlanta Rowing Club and Holly Hill, so there are plenty of things to see and do.


Annual Events
Candlelight Tour of Historic Homes - Tour Roswell's three historic homes by candlelight and celebrate the holiday season.
Fourth of July Extravaganza - Held on the 4th of July, could be the best fireworks display in Georgia.
Keep Roswell Beautiful Duck Race - The popular Annual Great Duck Race takes place in late September on Big Creek. For $5, you can sponsor three ducks. The (fake) ducks enter the water at the footbridge on Oxbo Road and "paddle" frantically about an eighth of a mile to the finish line. The first duck to cross the line wins its sponsor $100; the second duck wins $50. This fundraiser supports Keep Roswell Beautiful events and programs throughout the year.
Lighting of Roswell Square - Held in December and kicking off the holiday season, the Lighting of the Square event is a Roswell tradition.
Memorial Day Celebration - The largest Memorial Day Celebration in Georgia. Held at City Hall.
Movies at Riverside Park - Free movies are shown on the giant screen May through September.
Riverside Sounds Concert Series - Concerts are held the first Saturday of the month in Riverside Park, May through October.
Roswell Arts Festival - During this September event, artists from throughout the southeastern US offer their creations for show and sale.
Roswell Roots Festival - During the month of February, many events and exhibits take place that celebrate Roswell's African American culture and heritage.
Youth Day Parade and Festival - Held each October to celebrate Roswell's youth.

Demographics & Lifestyle
Roswell's population lies just south of 90,000 at 88,346. 74.7% of the population is white, 11.7% black, 4% Asian, and 16.6% Hispanic or Latino. 30,207 households reside in Roswell, of which 34.6% have children under the age of 18 living with them. 57.1% are married couples living together with no children. 8.6% have a female householder, and 30.7% are non-families. 4.5% have someone living alone who is 65 years of age or older.
The population of Roswell is spread out with 24.4% under the age of 18, 8.2% from 18 to 24, 35.1% from 25 to 44, 24.7% from 45 to 64, and 7.5% who are 65 years of age or older. The median income for a household in the city is $73,469, and the median income for a family is $103,698. The average income for households is $106,219 and the average income for families is $123,481.


Blog Posts You May Enjoy...