<<< Back To Sandy Springs Real Estate & Homes For Sale
About The City Of Sandy Springs, GA.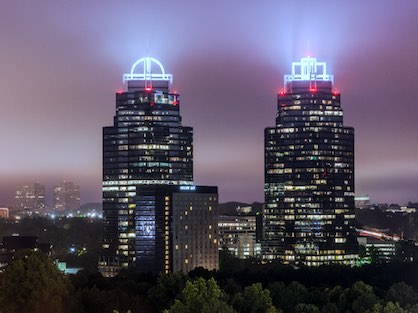 One of North Fulton County's most popular cities, Sandy Springs is the perfect combination of city bustle and suburban peacefulness. The first home was built in 1842 on what is now Johnson Ferry Road, and in 1851 five acres of land was given to the community in order to construct the first church, the Sandy Springs United Methodist Church.
Sandy Springs is known as both a family-friendly area and a destination for young, single people, and some of the best schools and businesses in Atlanta are found within its boundaries. Additionally, residents of Sandy Springs are known to be very involved with city politics, events, decisions, and other functions, which lends to a happy atmosphere for those both living and playing within its borders.
2005 Incorporation
Becoming a city had been talked about for years, though the community's attempts to incorporate were thwarted from the 1970s until 2005. However, on June 21, 2005, resident's voted 94% in favor of incorporation. Following incorporation, development in Sandy Springs has taken off, bringing shopping, dining, and entertainment options to the small city.
Popular areas include Downtown Sandy Springs, Riverside, Dunwoody Panhandle, Perimeter Center, and North Springs. The boundaries of Sandy Springs are Buckhead to the south, Cobb County (at the Chattahoochee River) to the west and north, Roswell to the north, and Dunwoody and Brookhaven, at the DeKalb County line, to the east.


Parks & Recreation
Sandy Springs is home to twelve parks and green space areas, three of which provide recreational facilities. There are several Chattahoochee River National Recreation Areas, including East Palisades, Island Ford, and Powers Island. All offer extensive walking/hiking trails; Island Ford offers fishing.
Abernathy Greenway Park - Features a pavilion, picnic tables, playground, and restrooms.
Abernathy Park - Features two tennis courts, a playground, picnic tables and an arts center.
Allen Road Park - Has a multipurpose sports court, picnic tables, a playground, sports field, and walking trails.
Hammond Park - One of the largest parks in Sandy Springs, Hammond Park features basketball courts, a gymnastics center, pavilion, picnic tables, playground, restroom, sports fields, and tennis courts.
Heritage Green - A four acre park located in the heart of Sandy Springs. The Heritage Sandy Springs museum is also located at Heritage Green and provides residents with a year-round calendar of events, museum exhibits, lectures, programs, community gardens, and more.
Morgan Falls Overlook Park - Offers fishing, picnic tables, playground, restrooms, walking/hiking trails, and a dog park. It also boasts an expansive view of the Chattahoochee River as well as a boat ramp for summer activities.

Shopping & Dining
Roswell Road is a main thoroughfare in Sandy Springs, and numerous shops and restaurants line this popular road. Parkside Shopping Center boasts a popular breakfast café, several lunch locations, a Tuesday Morning, movie theatre, and the Anne Frank Museum, located on the top floor of the Sandy Springs visitor center. Further north on Roswell Road, you'll find CityWalk Sandy Springs, a relatively new shopping center with a grocery store and several trendy restaurants, as well as numerous townhome developments.
Sandy Springs North Shopping Center features several quick lunch spots, a bakery, and several popular stores including Pier 1 and Trader Joes. Travel further east to the Perimeter Center area, where numerous condos, apartments, retail, and restaurant locations are in the process of being constructed. If it's new and trendy, it will be in this area of Sandy Springs.


Annual Events
Chattahoochee River Summer Splash - The Annual Chattahoochee River Summer Splash is a summer tradition. Beginning at Morgan Falls Dam and ending at Cochran Shoals/Powers Island National Recreation Area, the event encourages participants to bring rafts and kayaks and float down the river. At the end of the course, live music and food provide fun late into the night.
Concerts by the Springs - Enjoy free, annual summer concerts featuring a variety of talented performers, as well as other family-oriented activities throughout the summer. This annual outdoor concert series is a fantastic way to spend an evening under the stars. The concerts feature a variety of talented performers in a fun, picnic-style atmosphere.
Elegant Elf Marketplace - This November event features sixty-five superior, international vendors, who offer unique products and gifts. Experience two full days of shopping in a festive, "winter wonderland" atmosphere. Proceeds to the Sandy Springs community to support Education, the Arts, the Environment, Heritage Preservation and Social Services.
Heritage Sandy Springs - Heritage Sandy Springs presents a full calendar of public programs and events, including the Sandy Springs Festival, Museum exhibits, lectures and programs, three concert series, children's educational and enrichment programming, community gardening programs, and more.
Sandy Springs Artapalooza - The only free fine arts festival in Sandy Springs. Around 150 artists from all over the country descend on Sandy Springs, guaranteeing that, no matter your taste, you will find something special and unique.
Sandy Springs Festival - The Sandy Springs Festival has been a beloved annual festival since 1984. Expect an artist's market, business expo, musical performances, a children's area, teen territory, a pet parade, a 10k/5k, and more. More than 30,000 people from all over the metro area turn out for this exciting event.
Stars and Stripes Celebration - Every 4th of July, the Stars and Stripes Celebration is held at the Concourse Corporate Center. Residents enjoy live music before a fireworks display lights up the sky over the King and Queen Building.

City Demographics & Lifestyle
There are just under 100,000 people living in Sandy Springs with around 42,000 households. 65% of the population is white, 20% black, 14.2% Hispanic, and 5% Asian. 21.1% of households have children under the age of 18, 40.1% are married couples, 7% female householder, and 49.9% are non-families. 17.8% of the population is under the age of 18, 10.5% aged 18-24, 40.3% aged 25-44, 21.6% from 45-64, and 9.8% over the age of 65. Median income for a household is around $106,000 while median income for a family is $129,810. Many businesses call Sandy Springs home, including IBM, Cox Enterprises, Cisco Systems, UPS, and AirWatch.


Blog Posts You May Enjoy...