2016's Most Expensive Homes Sold In Metro Atlanta
Posted by Metro Atlanta Home Group on Wednesday, December 28, 2016 at 8:30 AM
By Metro Atlanta Home Group / December 28, 2016
Comment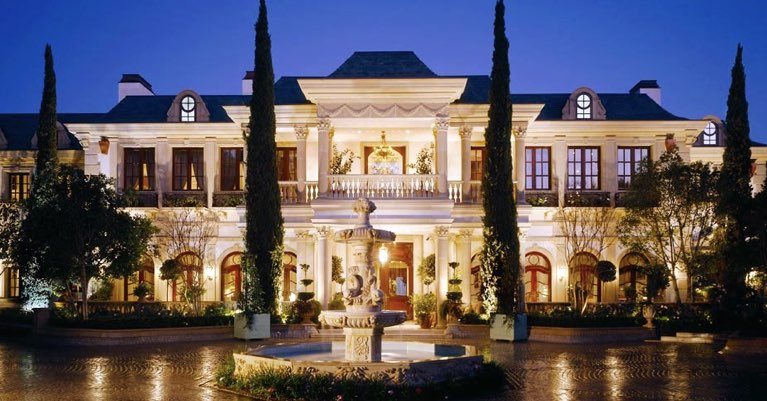 When it comes to luxury houses, Atlanta has some of the largest and most unique homes in the southeast. Many of them located on private estates, these mansions offer nearly everything a buyer could desire. From historic properties to celebrity homes, this year we saw a little bit of everything. The only question is... which one is your favorite?
Note: The sale data in this article was obtained from county tax records and the First Multiple Listing Service. The homes shown here were listed and sold by brokerage firms other than the owner of this website. The information presented here is deemed reliable but is not guaranteed.


4110 Paces Ferry Road NW - $17,500,000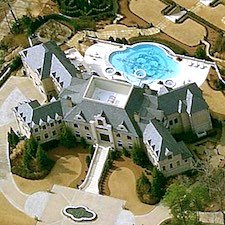 Beds: 7 / Full Baths: 9 / Half Baths: 5
Community: Buckhead (Atlanta)
Sq/Ft: 34,688 (Builder)
Lot Size: 16.99 Acres (Tax Record)
Sale Date: April 29, 2016
A European villa nestled in the heart of Atlanta – this stately 7 bedroom, 9 bath home is a dream. Enter by one of two private, secured entrances; the main drive welcomes you and your guests with gorgeous brick pavers and a fountain.
Custom, double wrought-iron doors lead you into the grand foyer with marble floors, two staircases, and a statement chandelier. As you walk from room to room, the sheer beauty of the design stands out. From murals in the dining room, to dark wooden beams in the great room, this home combines coziness and style in a way few can.
In addition to all the traditional features, 4110 Paces Ferry also boasts a study, theatre, gym, spa, hobby house, and underground ballroom. The grounds complete the lavishness; an infinity edge swimming pool, lighted tennis court, and gorgeous gardens give you and your guests plenty of activity options. Compelling, beautiful, stately – this home is everything.
---
5200 Moore Road - $8,800,000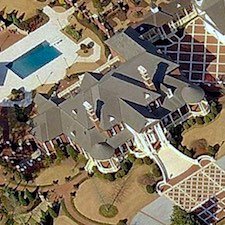 Beds: 8 / Full Baths: 12 / Half Baths: 8
Community: Suwanee
Sq/Ft: 35,100 (Appraisal)
Lot Size: 14.51 Acres (Tax Record)
Sale Date: August 23, 2016
14 acres only a short drive from the Atlanta hustle and bustle – this is the true definition of a country manor. With an imposing driveway, guests are welcomed with fountains and fanfare. A classic brick home, the style echoes traditional southern homes with white columns and trim that matches the brick pavers on the numerous porches. Stylish black lampposts light the way around the grounds and drive.
Indoors, no detail is left undone. Crown and baseboard molding, along with wainscoting, can be found throughout the interior on the second, first, and terrace levels. Each room boasts something beautiful, from magnificent views to sparkling hardwoods. The master bath features ornate architecture, including columns and a vaulted ceiling, while the terrace level features numerous built-ins, a gorgeous wooden trey ceiling, and a large movie theatre and wine cellar. Within driving distance to numerous parks and golf clubs, 5200 Moore Road gives you your own private retreat within city limits.
---
509 W Paces Ferry Road NW - $7,200,000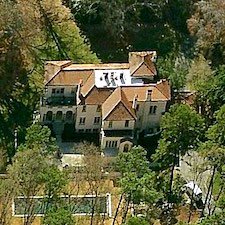 Beds: 4 / Full Baths: 5 / Half Baths: 2
Community: Tuxedo Park (Atlanta)
Sq/Ft: 10,000 (Appraisal)
Lot Size: 7.32 Acres (Tax Record)
Sale Date: September 13, 2016
Built in 1922, Villa Juanita is a prime piece of real estate, not only because of its location next door to the Governor's Mansion but because of its simple and timeless style and beauty. From the moment you enter the beautiful wrought iron gates, you'll know you're someplace special.
The land is open, with plenty of lush trees and greenery; the pool is the focal point, sitting amongst walking paths and an understated low white wall. Statues and old oaks dot the landscape. The home itself is a mix of traditional Spanish and Italian architecture, with columns, arches, and stonework on the exterior.
The entrance foyer exhibits the stonework perfectly, and paired with a curving staircase and marble flooring, you can welcome guests in style. Each room is exquisitely appointed with classic décor, lovely architectural details, and plenty of natural light and doors to the patios. With a gym, indoor pool, and numerous porches and patios, Villa Juanita is a timeless classic with modern luxurious touches.
---
1867 W Wesley Road NW - $5,650,000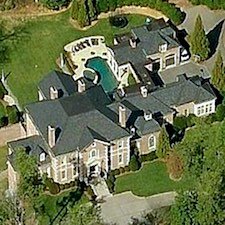 Beds: 6 / Full Baths: 6 / Half Baths: 4
Community: Buckhead (Atlanta)
Sq/Ft: 13,118 (Tax Record)
Lot Size: 3.29 (Tax Record)
Sale Date: August 8, 2016
Distinctive design is the name of the game with this Bill Harrison home in Buckhead. Private and quiet, nestled in lush landscaping, this 6-bedroom, 6 bath brick traditional is as unique as they come. The floors are a lovely deep hardwood throughout, but each room boasts its own personality.
From the classic dining room to the gorgeous wood paneling in the study, Bill Harrison left no detail incomplete. A spacious wine cellar, gym, theatre, sauna, and golf simulator complete the terrace level, while the pool, outdoor kitchen, whirlpool, putting green and pool house complete the tour of the grounds. Living and entertaining is easy on West Wesley Road.
---
7 Cherokee Road NW - $5,500,000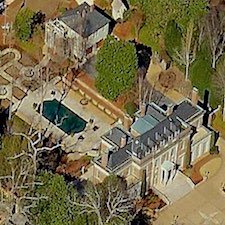 Beds: 7 / Full Baths: 5 / Half Baths: 3
Community: Buckhead (Atlanta)
Sq/Ft: 9,432 (Tax Record)
Lot Size: 4 Acres (Tax Record)
Sale Date: August 29, 2016
Nestled on 4 acres of historic property, this gorgeous manor was built in 1922 and boasts 7 bedrooms and 5 baths. Much of the original architecture is still in place, including the custom crown molding, columns, and hardwoods.
The eight fireplaces are precisely located, including in the dining room, living room, family room, breakfast room, and master bedroom. Each room is light-filled and individually decorated with an understated style. Neel Reid designed, 7 Cherokee Road exudes a style that you won't find elsewhere.
---
2485 W Wesley Road NW - $3,750,000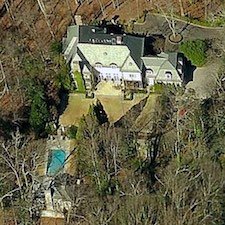 Beds: 7 / Full Baths: 7 / Half Baths: 2
Community: Buckhead (Atlanta)
Sq/Ft: 10,869 (Appraisal)
Lot Size: 4.98 Acres (Tax Record)
Sale Date: December 5, 2016
French country style comes to Buckhead in this beautiful 7 bedroom, 7 bath home. Redesigned by Yong Pak and Dan Carithers, this estate lives up to its name and offers residents true luxury and a homey feel. The redesigned included importing numerous antique materials from Europe, further adding to the French provincial feel.
The front walkway is professionally landscaped and plotted, with stone and pale brick the order of the day. The exterior of the home further adds to the French style, both in construction and paint choice – a dusty blue color accents the shutters while Hardcoat stucco and stone compose the exterior façade.
Once indoors, a bright, airy two-story foyer greets you with limestone tile and rough hewn oak beams. This style echoes throughout the house, from the antique limestone mantle and fluted pilasters in the living room to the beams and pale blue walls in the dining room to the custom French masonry fireplace in the family room.
No detail is left to the imagination; authenticity is key here. The grounds continue to delight, with wide expanses of lush green lawn, numerous limestone patios, a heated saltwater pool by the summer house, and a children's retreat just under the beautiful canopy of Atlanta trees. For the French provincial connoisseur, 2485 West Wesley Road is the perfect home.
---
4370 Paran Place NW - $3,700,000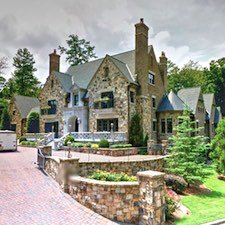 Beds: 6 / Full Baths: 8 / Half Baths: 3
Subdivision: Paran Place (Atlanta)
Sq/Ft: 11,820 (Tax Records)
Lot Size: 1.03 Acres (Tax Records)
Sale Date: June 23, 2016
This beautiful stone home is a rare find – the exterior faintly echoes a British country home or a fairy tale cottage, and the landscaping, water feature, and brick driveway only cement the imagery. The magnificent, private front drive welcomes you home via automated gate, and the home itself features numerous balconies and chimneys and various architectural details such as a slate roof and plenty of windows and French doors.
Once inside, the word that comes to mind is "warm." Step into the two-story foyer with its gorgeous tile, wrought iron door, and impressive crown and baseboard molding. The winding staircase is the focal point with its shining hardwood and wrought iron spindles; the imposing double wooden doors into the formal living room echo the beautiful architecture throughout. The family room welcomes you, again, warmly, with coffered ceilings, gorgeous lighting, built-ins, and direct access to the patio.
Each room exudes an elegance that is rarely found in homes yet puts forth a piece of character all its own, from the butler's pantry to the wooden arches in the library. The master suite will take your breath away, with soaring ceilings, exposed beams, and plenty of natural light. The master bath and closets are equally stunning.
Through the kitchen and from room to room, upstairs and down, beautiful wooden beams, molding, and other architectural details pull this home together in a very unique way. Outdoors, you'll find a large kitchen with stone, granite, and hardwood accents along with a hot tub, sauna, swimming pool, and large patio. Style and warmth, architecture and comfort – 4370 Paran Place is the definition of home.
---
3303 Chatham Road NW - $3,650,000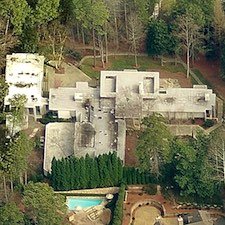 Beds: 4 / Full Baths: 5 / Half Baths: 1
Community: Buckhead (Atlanta)
Sq/Ft: 8,251 (Tax Record)
Lot Size: 1.9 Acres (Tax Record)
Sale Date: August 9, 2016
3303 Chatham Road takes mid-century modern to an entirely different level. The octagonal driveway brings you directly to the front of the large ranch-style home, and the professional landscaping only compliments the style. Upon entry, the home greets you with a lovely open layout with extreme architectural detail; Atlanta rarely offers style such as this.
Plenty of large windows and glass walls reign here, and with custom lighting the interior seems straight off the pages of a magazine. Much of the main level hardwoods are imported from France; the outside is welcome in with the numerous sets of French doors and floor to ceiling windows.
Fred Briggs, Laguna Beach architect designed this custom home, and his style and scale is obvious upon first glance. In addition to the 4 bedrooms and 5 bathrooms, there is a gym, spa, and modern indoor pool. Combining style and function – 3303 Chatham Road is it.
---
831 Fairfield Road NW - $3,648,000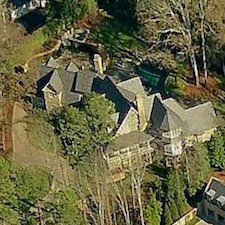 Beds: 7 / Full Baths: 8 / Half Baths: 2
Community: Buckhead (Atlanta)
Sq/Ft: 7,705 (Tax Record)
Lot Size: 1.8 Acres (Tax Record)
Sale Date: August 19, 2016
Imagine a classic farmhouse within the stylish confines of Buckhead – welcome to 831 Fairfield Road. The exterior grounds are bursting with beautiful flowers and greenery, much of which is unique to Georgia. The home itself is composed of cedar, shingle, and stone; a large, rocking chair front porch welcomes family and guests alike.
Once inside, each room echoes the others with sparkling hardwoods, crown molding, and wainscoting throughout the main level. The family room boasts a vaulted ceiling with exposed beams and shiplap, columns, and a large fireplace. From room to room, from the study to the kitchen to the laundry room, no detail is left to the imagination. Warm, welcoming – it feels like home.
The master suite is large; the ceiling is vaulted, the bathroom spacious and luxurious with a soaking tub and bay window overlooking a private patio. The terrace level is reminiscent of a castle, with exposed wooden beams, stone fireplaces, built-ins, and curved stone doorways, not to mention the large wine cellar. Outdoors, you'll find a true retreat: saltwater pool with waterfall, spa, and plenty of lush gardens. Truly perfect for everyone.
---
4701 Northside Drive NW - $3,630,000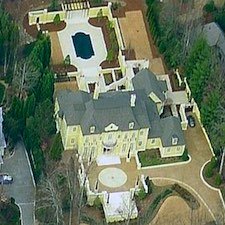 Beds: 6 / Full Baths: 6 / Half Baths: 4
Community: Buckhead (Atlanta)
Sq/Ft: 14,387 (Appraisal)
Lot Size: 2 Acres (Tax Record)
Sale Date: May 26, 2016
When one thinks of true luxury, 4701 Northside Drive should come to mind. This 6 bedroom, 6 bath home is imposing and stylish, the kind of home you only see in movies. A strict European style, this home boasts impeccable styling, both inside and out. A 26-foot ceiling, marble floor, and imposing columns welcome you in the grand foyer; the home only flows from there.
Each room is classically designed with moldings, arched windows, and beautiful flooring. The architectural detailing is everywhere, from the fireplaces to the ceilings of each room to the doorways – each a work of art all its own. In the kitchen, design takes a rustic turn with exposed wooden beams and dark cabinets.
This continues into the family room, where the beams and casual fireplace make for a more relaxed atmosphere. Outdoors, gorgeous traditional landscaping in the form of gardens and terraces adds to the European feel of the home; the swimming pool makes it more modern. A rare opportunity, indeed.