23 Essential Things To Do During Due Diligence
Posted by Metro Atlanta Home Group on Wednesday, September 28, 2016 at 5:00 PM
By Metro Atlanta Home Group / September 28, 2016
3 Comments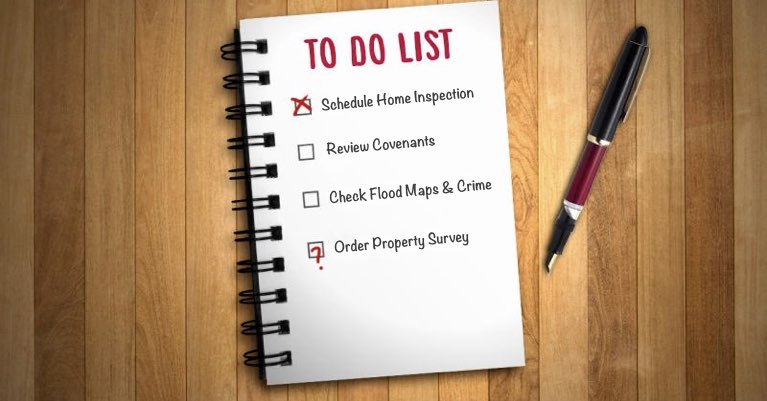 Buying a home can be a pretty stressful process. Many buyers falsely assume that once they've found the right home and negotiated a contract, the rest is a walk in the park. That couldn't be further from the truth. In my experience, getting the home under contract is usually the easiest part; something most buyers enjoy. After all, going out and looking at homes is fun, and hearing back from the seller that your offer has been accepted, is exciting.
Once you're under contract, the work begins… and so does the stress. In Georgia, homebuyers are customarily given an opportunity to thoroughly inspect the property, research the neighborhood, and decide whether they want to move forward with the purchase. This opportunity is known as due diligence, and it gives the buyer the option to terminate the agreement within a designated timeframe, usually without any repercussions (such as loss of earnest money).
In this article, I'm going to cover some of the most important things you'll want to do during your due diligence period to help ensure your next home purchase is a success.
How To Dominate Due Diligence (Video)

Your Due Diligence "To-Do" List
The following list will help you uncover everything you need to know about the home you're purchasing. They'll also help reinforce your decision to move forward with the transaction, or walk away. Keep in mind, these tips may not apply to every real estate transaction, and in some cases, may not be worth the added expense.

1. Get A Professional Home Inspection
One of the most common (and important) things to do when purchasing a home, is to get a home inspection. A good home inspection will uncover current and potential issues with the home. Lasting anywhere from two to four hours (or more), a thorough inspection will cover the entire home, from top to bottom, inside and out. Inspectors look at appliances, plumbing fixtures, electrical, windows, decks, the roof, stairways, attics, fireplaces, siding and more. You name it, the inspector has it on their list of items to take a look at. In Georgia, some will even do a short term Radon test, for an additional charge.
When choosing your inspector, it's important to find someone that is licensed, insured, and has plenty of experience inspecting the type of home you're purchasing. In most states, nearly anyone can call themselves a home inspector, so it's important to vet an inspector before hiring them. Your agent should be able to recommend an inspector with a solid track record of providing inspections with accurate assessments of problem items and be able to clearly report their findings. Finally, don't let cost play a major role in your decision of who to hire. After all, you usually get what you pay for.


2. Have The Property Surveyed
Some buyers make the mistake of thinking the property lines they see on Google Maps, Bing Maps or those available through the county appraiser's office, are 100% accurate. Usually these are just estimates, and they won't show exactly where property boundaries and structures are located. Unless the seller has already provided a recent survey of the property, you may want to have one done. In addition to property boundaries, a survey may also show the setbacks, right-of-ways, easements, encroachments, utility locations and more.
While nice to have, surveys can be expensive, depending on the company you hire and how complex the job is. While I won't say they're unnecessary in subdivisions with uniform lots and fairly clear lot lines, you may want to consider whether the investment is worth it. However, if you're concerned about things like a shared driveway, zoning restrictions, existing improvements, or if you anticipate putting up a fence or building an addition in the future, a survey can give you some peace of mind that your future plans can be carried out as you wish (barring other restrictions). Back to top


3. Get Lead-Based Paint Testing
If no part of your home was built on or before 1978, you shouldn't have to worry about this one. However, if you're buying a home built pre-1978, you should at least educate yourself on the effects of lead-based paint found in and around the home. Since lead has been found to cause a variety of health problems when absorbed into the body, it's imperative to know the risks before you buy, especially for those with young children or expecting.
Testing a home for the presence of lead can be done by a licensed lead-based paint inspector. Specialized testing can be done to determine if samples from the home show a presence of lead in things like paint, soil, flooring, drinking water, household objects and dust in the air. If lead is present, the home may require the work of a qualified contractor experienced in removing or covering lead-based paint, to ensure minimal exposure. Back to top


4. Pump And Inspect The Septic Tank
Many homes in cities and dense metropolitan areas are on public sewer, but that's not the case everywhere. A lot of rural properties, and even those in the suburbs of metro areas, still use septic tanks for sewage. If that's the case for a home you're purchasing, it's probably a good idea to have it inspected, even if the current homeowner has been routinely pumping the tank (every 3-5 years). The inspection can uncover repairs that need to be made, or even worse, the replacement of the entire tank and drain field, which can be very costly if they fail.
In order to properly inspect the septic tank, it typically has to be pumped first. Because the inspection will likely require the seller's yard to be dug up, you may want to address it in the contract to purchase the home. The inspection is going to set you back at least a couple hundred dollars, so make sure to budget for it. Better yet, negotiate for the seller to have it done as part of the contract, since it will still be of benefit to them, even if you don't move forward with the purchase. Back to top


5. Mold & Air Quality Testing
According to the EPA: "In the last several years, a growing body of scientific evidence has indicated that the air within homes and other buildings can be more seriously polluted than the outdoor air in even the largest and most industrialized cities. Other research indicates that people spend approximately 90 percent of their time indoors. Thus, for many people, the risks to health may be greater due to exposure to air pollution indoors than outdoors."
This means, assessing the indoor air quality of a home is important, especially for buyers with allergies or children. Before deciding on air quality testing, ask yourself these questions: Does the current homeowner have pets? Do they use allergen reducing air filters (changed regularly)? Is the HVAC system operating properly and is the home properly ventilated? Do they smoke in the home? Are pesticides or dangerous building materials present in or around the home? Have proper humidity levels been maintained? Is there or has there been any water damage? Do you notice any strong odors when inside the home? Back to top


6. Get A Termite Inspection
Metro Atlanta is a hotbed for termite activity, and a home left untreated could be at major risk. Before moving forward with your purchase, you'll probably want to make sure your new home isn't on the menu for a colony of these wood eating critters. Left unchecked, termites can cause major damage to a home, feasting on any wood they can get to. To the untrained eye, signs of damage from termites can be hard to spot, yet they'll silently destroy the foundation, walls, furniture and more.
Most major pest control companies also do termite inspections and treatments. Many of them do a free inspection, then suggest a treatment plan if there is evidence of current or past activity. If the home is currently covered under a termite bond, see if it's transferable and what the policy covers, as you may be able to keep the current bond. The initial treatment of a home can cost $500 - $1,000, or more, depending on the treatment type. Maintaining the bond usually costs a couple hundred dollars a year, so it's an expense you'll need to budget for down the road. Back to top


7. Test For Electromagnetic Fields
Although not very common, testing for electromagnetic fields is a topic of interest among home inspection associations and even included in some new home builder contracts. While most scientists agree more research is needed, some tests have shown that strong electromagnetic fields can have a negative effect on people. One condition, identified as Electromagnetic Hypersensitivity, is a psychological disorder caused by exposure to electromagnetic fields.
Having a test done to identify electromagnetic fields in and around a property is probably overkill for most homebuyers. However, identifying nearby power lines and power sources is probably a good idea, since it can impact the home's marketability and resale value. If you're buying a home near power lines, do some additional research on the effects before moving forward. Back to top


8. Check Flood Maps
Flooding causes billions of dollars worth of damage every year; and homes in nearly every state are susceptible. It only takes a few inches of water entering the home to cause tens of thousands of dollars in damage. Those living in flood zones are particularly vulnerable to flooding. Homes in low lying areas, and those near rivers, streams and other bodies of water, are typically at a higher risk. If a property is in a high-risk area, mandatory flood insurance may be required by the lender, which can get it expensive.
Luckily, it only takes a few minutes to check whether a home is located near a flood zone. Simply visit the FEMA Flood Map Service Center to download a free flood map. Search by address, then view or download the map (image) to find out if the home is located in a high-risk area. If any part of the property is near an elevated risk zone, you should check with the seller to see if flood insurance is required and if they've experience any issues in the past. Your lender should also be able to pull a flood certification to determine if flood insurance is required. Back to top


9. Check Community Restrictions, Financials & Amenities
If you're buying a home in a neighborhood with an HOA or any type of recorded restrictions, you'll want to know what you're signing up for ahead of time. Usually, the more information you can get, the better. If possible/applicable, obtain and review copies of covenants, restrictions, declarations, plat maps, meeting minutes, treasurer's reports and association budgets. You should also check the condition of community amenities and find out if there are any restrictions on use. Understanding what your monthly/annual assessment is, how you can use your property and your rights as a homeowner, is very important, but often overlooked.
Unless the documentation you're looking for is available to the public on the internet (most times it isn't), you'll need to get this information from the seller. Unless negotiated in advance (in the purchase contract), the seller might not be obligated to get you the information, so it's a good idea to request this stuff in writing up-front. Either way, getting this documentation from the management company or board of directors can take time, so start requesting it right away. Back to top


10. Review Zoning, Setbacks And Permits
Buying a home that violates zoning restrictions, setback requirements, or features un-permitted work, can be extremely costly. The last thing you want to do is completely tear down that nice new addition to your new home, right? Lazy contractors, and homeowners looking to fly under the radar, sometimes ignore local building requirements when adding on to a home or making major renovations. If the proper paperwork isn't filed, permits pulled and inspections done, you could be looking at paying fines, or worse, having to completely redo shoddy work.
If you suspect any additions were made to the home, or if the current square footage doesn't closely match what's listed in the tax records, you may want to do some digging. You can start by contacting the local municipality's code enforcement, building and/or planning departments. They may need to send someone out to verify the existing structures, compare it to what is on file, and take measurements. If everything checks out, or has been grandfathered in, you shouldn't have anything to worry about. Back to top


11. Take Measurements
Love your leather sectional, king size bed, and banquet size dining room table? You should probably make sure it all fits in your new home. Even if you are buying new furnishings and appliances, it's a good idea to take measurements first. Believe me, you won't want to make the mistake of lugging a brand new 300 pound stainless steel refrigerator up the stairs to your kitchen, just to find out it's too wide to fit between your counters! In addition, make sure to measure the garage door opening, especially if you drive a large SUV or truck.
I usually suggest clients take measurements during their home inspection, since they'll probably be at the house for a few hours anyway. Make sure to write the measurements down and take some photos while you're at it; you'll thank yourself later on. When measuring, remember to account for overhangs, offsets and the additional clearance that may be needed. Also, don't forget to measure doorways, hallways and other access points to the home. Back to top


12. Check For Crime In The Neighborhood
While there aren't many neighborhoods out there that are 100% crime free, some are definitely better than others. Checking to see the level of crime activity in your perspective neighborhood could alert you to potential gang issues, drug problems, or the threat of constant break-ins. Look around, do other neighbors have security systems, large dogs, or bars on their windows? Ask yourself, would you feel comfortable walking the neighborhood at night? You may also want to check the sex offender registry to see how many and what type of offenders are currently living nearby.
There are a handful of online resources that can help you research this kind of information. Websites like SpotCrime.com, CrimeMapping.com, and CityProtect.com are great for identifying crimes reported by local law enforcement. If online reporting is not available in your area, try contacting the local police department to get information on the frequency and types of crime in the area. If you're looking to find nearby sex offenders, try using FamilyWatchDog.us. Or, if you're located in Georgia, you can also use the Georgia Bureau of Investigation (GBI) website. Back to top


Know someone that could benefit from the information in this article? Please share it on social media or leave a comment below if there's something you feel I left out.

13. Drive The Neighborhood At Various Hours
When you first see the home, it may be on a weekday when nobody in the neighborhood is home. Don't you want to see what the neighborhood is like on the weekend, or late in the evenings? Are your neighbors out exercising or walking their dogs? Are they unafraid to be out alone after dark? How many cars are parked in driveways and along the street? Do people waive and seem friendly, or do they stick to themselves? Is the neighborhood well lit at night by streetlights and porch lights? Do nosey neighbors watch your unfamiliar car as you drive through the neighborhood?
Cruising through the community at different times and days of the week can give you some valuable insight on what the neighborhood is like. You should be able to get a sense of how safe the neighborhood is, and how friendly your new neighbors may be. Ultimately, you should feel good about becoming part of the community, and look forward to calling the area "home". Back to top


14. Research Nearby Properties & Development
What if you decided to buy a home at the back of the subdivision because of the privacy the woods in the back yard provide, only to find out the property behind you will soon be used as a junkyard? Now, that might be a little far fetched, but don't rule out the possibilities of what could go up behind, next to, or in front of your home, especially if the current property is woodlands or vacant land. Determining what it could become is the first step, and shouldn't be too difficult. Trying to figure out what it would become, may be a little tougher.
So what can you do to keep from having nightmare neighbors? First of all, check the current zoning for surrounding parcels. By determining if they're currently residential, commercial, industrial or something else, you should get an idea of what they could be used for, barring any re-zoning requests. Also check to see who the owner is and how long they've owned it. Researching the owner could give you some insight on what type of business they're in. Finally, think about what would make sense in the location and ask your agent what they foresee the property being used for. Back to top


15. Talk To Neighbors
If you really want some inside information on the property you're buying, talk to the neighbors! People who live in the neighborhood can give you the kind of information you won't find online or from inspections. Depending on how long they've lived there, they may be able to tell you the history of the neighborhood, great local restaurants, why the current owners are leaving and more. If you can do it without sounding too interrogative, try to find out if there's ever been any major damage to the property (like fire or flood), what other neighbors are like, if there's a problem with crime, or anything else you'd like to know.
Your best bet for striking up a conversation with neighbors is to visit the property in the evening or on a weekend. If you can catch folks at a time when they're not in a hurry, they may be more willing to speak with you. They'll probably be interested in learning more about you as the potential new owner, and will probably be curious what the inside is like, what the house is selling for, and when it's going to close. You never know where a friendly conversation can lead, and you just might make a new friend! Back to top


16. Double Check Public Records
When making your offer, you probably looked over the MLS listing, seller's disclosures and public records. But with everything happening so quickly, did you really get a chance to dig deep into the property details? By pulling up public records, you can verify the current property taxes, determine whether or not there is a homestead exemption (plus determine type), see historical sales & tax assessments, view the chain of ownership, check recorded square footage, see who legally owns the property and more!
Most counties now provide public access to property records online. To see if your county provides online access, simply run an online search for your county tax commissioner or property appraiser's office. If they have a website, look for a link to a property records search page. In addition to basic property records, some counties also provide appraiser's maps (lot lines), building sketches and comparable sales tools. You can also look up neighboring homes to see what their current/historical assessed values are and how much they've sold for over the years! Back to top


17. Review Your Contract, Disclosures & Deadlines
Were you in a huge rush to submit the offer on your home? When trying to get everything signed and over to the seller, did you get a chance to read over every line of the offer, disclosures and exhibits? If not, maybe you should take a moment to read through everything you signed. During due diligence, you may have the opportunity to back out without any repercussions if something major is in the contract that you weren't aware of.
Double check the final agreement to ensure the major items like sales price, seller paid closing costs and contingency deadlines are what you agreed to. This will also give you a chance to get familiar with upcoming deadlines and know what you're responsible for doing… and when. Standard purchase & sale agreements and exhibits drafted by state REALTORS® associations are generally buyer and seller friendly. They're typically designed to protect both parties and avoid litigation. However, that doesn't mean you shouldn't read through yours carefully. Back to top


18. Check Your Cell Phone Service
Unless you're one of the few people that still relies solely on a landline, you may want to see if you get service while in the home. There's nothing worse than dealing with dropped calls, slow internet speed and poor call quality, especially if you don't plan on carrying home phone service. Cell phone signals depend on the provider, proximity to towers, nearby obstructions, weather and current network volume; so there are multiple factors that could reduce your signal strength. Just make sure the home you're buying isn't located in a "dead zone", where you just can't get service.
Go ahead and check your signal during the home inspection, since you'll have more time to test things out. You can go from room to room in the house and see how many "bars" your phone gets. You may need to spend a minute or two in each room so the signal can stabilize, giving you a more accurate reading. If the signal seems low, try placing a call to someone on a landline and see if your call cuts out. You can also run an internet speed test to see what speeds you're getting. If your friends or family use different providers, have them see what coverage they get in the home, as well. Back to top


19. Verify Utilities & Get Estimated Usage
It's good to know which utility providers service the home, and get an estimate of what the current owner is paying. Maybe you need high speed internet for business or streaming movies, but it's unavailable. If the home is currently on a septic tank, you may want to see if public sewer service is available, in case you want to tie into it one day. If you're moving from a small apartment to a larger home, you might be surprised how much it can cost to heat/cool a home during the months with extreme temperatures.
Most utility companies (like electric) are willing to provide a monthly average, to give you an idea of the cost. However, this can vary widely by homeowner usage habits, so keep that in mind when checking your costs. Back to top


20. Verify School District Zoning
For most parents, sending a child to the right school is paramount; something that will play a major role in the child's development process. Plus, schools can play a huge role in a home's current and future value. You should take the time to independently verify the school districts for the home you're buying.
Many times, agents simply look to see what schools nearby homes are zoned for, and put those down. Streets can divide school districts, and those lines can change. In addition to verifying current zoning, you may want to find out if there are any talks of re-zoning in the near future. The last thing you want is to think you're sending your child to one school, only to be zoned for another. Back to top


21. Check For Potential Foreclosures
What if the home you're buying, or a handful of others in the neighborhood, will soon be in foreclosure? Would it change your decision to buy the home? Maybe you'd be a little more cautious buying into the neighborhood knowing how foreclosures impact home values. Depending on your current situation, you may be willing to wait it out to see if you can find a better deal on one of the foreclosed properties.
This knowledge could give you additional bargaining power when it comes time to negotiate repairs or fight a low appraisal. Either way, knowing which properties are at risk of default and why, could help you determine if it's truly the neighborhood for you.
In Georgia, you can search foreclosure notices for properties in more than 159 counties from one website. Just go to the Georgia Public Notice website and search by owner name or property address. If there's a match, you can view the complete public notice from the local legal organ newspaper advertising the upcoming foreclosure sale. Alternatively, websites and tools like Zillow, RealtyTrac, and RealValuator provide foreclosure, REO and pre-foreclosure search capabilities. Back to top


22. Check For Noise & Traffic
With so much coming at you at once, you probably won't notice noise the first time you visit a home. However, once you move in, you'll start to hear all the noises in and around your home. For those who are sensitive to noise, living next to train tracks, a freeway or even an airport, can literally drive you crazy. Even if you don't think outside noise would bother you, consider the impact it might have on your resale value.
Check maps for nearby highways, airports, train tracks/stations, schools, businesses, etc. Drive the neighborhood and surrounding areas a few times to see what types of potential causes of noise are in the area. If you attend your home inspection, spend some time outside quietly listening. What do you hear? Are the same noises also loud inside, or is the home well insulated? These are some good questions to ask yourself to ensure you'll get the peace and quiet you're looking for! Back to top


23. Find Out If The Home Is Haunted
If you've made it this far in the article, you're really doing all your homework! This last item on the list is more for entertainment, unless you're a big believer in ghouls and ghosts! For the record, I've been asked before if a house was haunted. It seems to happen when they're dark and creepy. While it may be difficult to verify, supernatural activity could stem from past activity within the house or on the land.
Maybe the home was the site of a murder or some other type of high profile crime. Could the house be sitting on an ancient burial ground or sacred land? Have your home blessed before moving in, or simply make friends with the ghosts. If things get dicey, pull out your Ouija Board or contact a priest to bless the home. Back to top