BHGRE Partners With Rebuilding Together To Revitalize Neighborhoods
Posted by Metro Atlanta Home Group on Monday, April 13, 2015 at 3:31 PM
By Metro Atlanta Home Group / April 13, 2015
Comment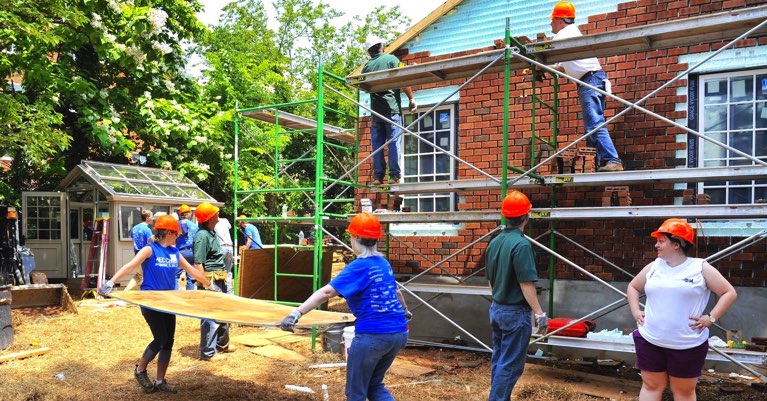 Helping Rebuild Low Income Areas
Just last month, Better Homes and Gardens Real Estate announced its philanthropic partnership with Rebuilding Together, a nationally recognized nonprofit that provides assistance for those unable to care for their homes, as well as communities and neighborhoods in need. The only agency that Rebuilding Together is partnering with, Better Homes and Gardens Real Estate plans to encourage their more than 10,000 real estate professionals to raise awareness in their individual communities for this amazing nonprofit.
How BHGRE Offices & Agents Can Help
There are several ways for Better Homes and Gardens Real Estate agents to participate, from sponsoring a build, hosting a fundraising event, donating on behalf of themselves or clients, and using marketing campaigns. Additionally, individual Better Homes and Garden Real Estate offices and teams can partner with a local Rebuilding Together chapter, combining forces to produce results.


About Rebuilding Together

Rebuilding Together was founded in 1973 in Midland, Texas. The community realized that several of their neighbors couldn't afford to maintain their homes, and so the community rallied around them, assisting with repairs, updates, and other vital needs of the homeowner. Today, the Rebuilding Together network has grown tenfold, with several affiliates throughout the United States. The main idea is to bring together volunteers and the community to assist low income homeowners with repairs and updates that they wouldn't be able to handle under normal circumstances.
As the years have progressed, skilled tradespeople, local businesses, and large corporate partners have embraced Rebuilding Together's mantra and have joined its ranks. Rebuilding Together's services aren't just for homeowners; it's for communities as well. Community center rehabilitation, playground builds, and sustainable community gardens are all projects that Rebuilding Together undertakes.


BHGRE Partnership
"In choosing a national philanthropic partner, we looked for a culture and value-based alignment with a partner whose mission our network would strongly support – helping people live their best lives by empowering their dream of homeownership, which closely parallels the work we do in our communities every day," said Sherry Chris, president and CEO, Better Homes and Gardens Real Estate LLC and a vice chairman on Rebuilding Together's National Board of Directors.
What is more important than neighbors and community? Nothing; Rebuilding Together and Better Homes and Gardens Real Estate agrees. Each company is dedicated to improving the lives of low income homeowners and, as a result, the communities in which we all live.