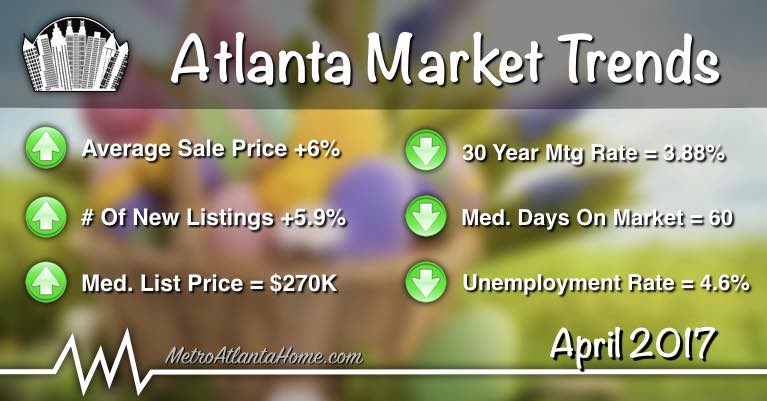 The Atlanta residential real estate market continues to remain hot as fire; with those in the market to sell their home reaping the reward. We saw a flurry of activity in March, with substantial jumps in the number of closed sales, selling prices and list prices. Despite a year over year increase in new listings hitting the market, the lack of available inventory of homes for sale continues to play a significant role in pushing home prices upward.
Interest rates have actually gone down in the past month or so, bucking the expectations of many in the mortgage industry. This, combined with an unemployment rate that continues to fall, seems to be motivating more and more buyers to enter the market. The influx of home buyers flocking to the market has created a demand for homes that seems to outweigh the supply. It's only April, and it appears the frenzy will continue for at least a couple more months.
Atlanta Housing Market Tidbits
Highest price home sold: $6,400,000
Lowest price home sold: $8,000
Most total days on market: 1067
Largest home sold: 13,000 sq/ft
Total dollar volume sold: $2,176,773,122
Average estimated home value: $174,200
One year price forecast: $181,168


Metro Atlanta Housing Trends
The market data and housing statistics contained in this report come from FMLS and CoreLogic. Unless otherwise specified, the market trends in this report are based off of single family attached & detached properties listed on FMLS....