Atlanta Real Estate Market Trends | December 2014
Posted by Metro Atlanta Home Group on Friday, December 12, 2014 at 10:30 AM
By Metro Atlanta Home Group / December 12, 2014
Comment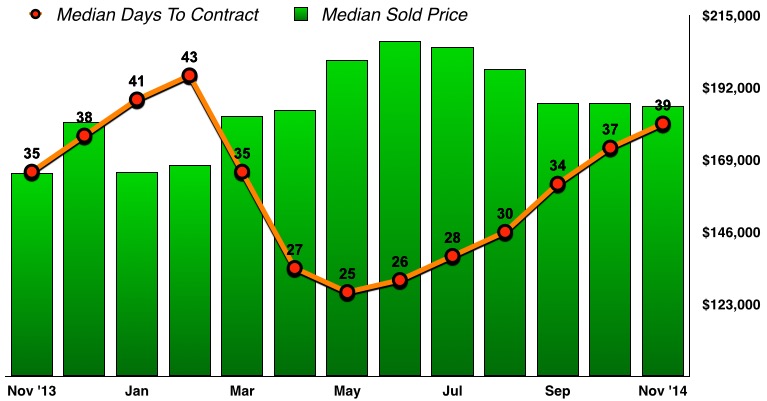 Median Home Prices In Metro Atlanta Up 12.9% YOY
Sale prices for Metro Atlanta residential properties in November were up nearly 13% compared to November 2013. This massive jump in prices is a continuance of the price appreciation trend that started in late 2012. Despite a winter "cool down" in prices from the 5-year high experienced this past June, median sale prices have remained constant the past three months and appear poised to increase again in 2015.
Market Signals From November
November's numbers show positive signs for metrics such as: closed sales, new pending sales, median & average sold prices, price per sq/ft and foreclosure inventory. We have experienced a trend of increasing inventory and days on market, which could mean the supply of homes for sale will continue to grow. The increase in supply in conjunction with a dropping sale price to original list price ratio may mean less of a seller's market as we move into 2015.
Positive Outlook Moving Forward
With mortgage rates remaining low, strong stock market gains and dropping unemployment numbers, all signs point to a strengthening real estate market and overall economy moving forward.


Average Price Per Sq/Ft & Avg Sale Price Comparison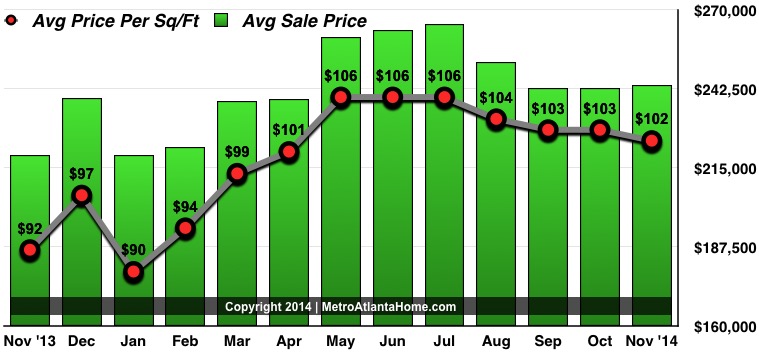 Average Price Per Sq/Ft - The average price per square foot of residential properties dropped to $102 in November, yet remains up 10.9% over the previous year. Historically speaking, the price per square foot metric typically drops this time of year, so no apparent cause for concern. The Metro Atlanta market has experienced double digit increases year over year since hitting a post-bubble low in Nov 2011 ($64). Look for a spike in December's figures as each of the past two years has produced big jumps to close out the year.
Average Sale Price - In following the price per sq/ft trend, the average sale price of residential properties has dropped after hitting a five year high this past summer. However, prices in the Metro Atlanta area have jumped 11% since last November and are up slightly compared to the past two months. At $243,826, the average sale price of metro area homes in November has increased nearly $100,000 since hitting a five year low of $144,789 in January 2011. This 68.4% increase in sale prices has restored much of the lost equity from the housing bubble and caused home prices in some areas to reach all time highs.
Want to know what your Metro Atlanta home is worth? Check out my home value estimator.


Total Active Listings (13 Months)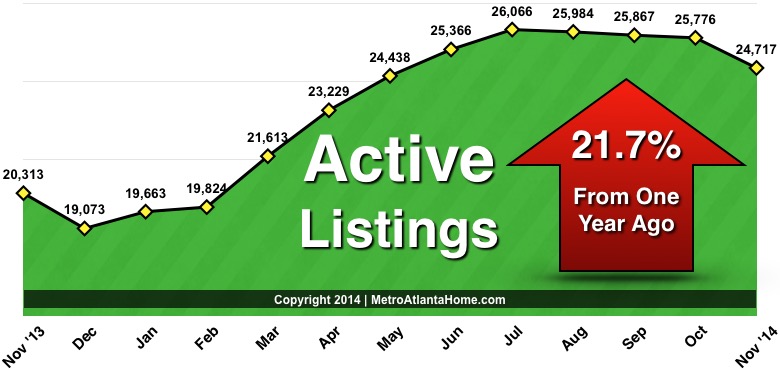 Active Listings - The number of properties listed for sale in November 2014 was up 21.7% over November 2013. Although this seems like a huge jump and possible cause for concern, consider the fact that the five year average for November is 29,384 active listings and in November 2010 there were approximately 46,500 listings on the market. All of these numbers are still well below active inventory levels during the housing boom.
An increase in inventory could actually benefit the market by slowing down the rapid price appreciation we've experienced over the past two years. With prices already returning to near pre-bubble levels in many areas, a drop to single digit price growth could help stabilize the market and prevent future home value volatility.


Listing Activity & Pricing Ratios

As they typically do this time of year, the number of new listings has dropped considerably from October but still remain up 3.5% compared to Nov 2013. The number of new pending sales has only increased slightly from a year ago, but is still well above the five year average. Closed sales show buyer demand has increased compared to a year ago, but still reflect the large drop off in activity this time of year. The drop in average sold to original list price ratio shows the weakening of the seller's market that will likely continue as inventory increases and price appreciation slows.


November Market Trend Highlights - Featured Communities
- Alpharetta: The number of properties sold increased 13.9% year over year.
- Avondale Estates: The average days to contract decreased by 37.5% YOY.
- Brookhaven: The average sale price was $510,296, up 16.8% year over year.
- Buckhead: The average sale price was $703,338, up 44.1% year over year.
- Chamblee: The average sold to original list price ratio was 97.55%, up 5.1% YOY.
- Decatur: The median price per square foot was $165, up 4.4% year over year.
- Doraville: The median sale price was $207,000, up 9% year over year.
- Duluth: The median price per square foot was $92, up 8.2% year over year.
- Dunwoody: The average days to contract was down 11.1% YOY (64 days).
- Johns Creek: The median price per square foot was $119, up 21.4% YOY.
- Lilburn: The median sale price was $162,500, up 7.6% year over year.
- Norcross: The average sale price was $202,118, up 26.9% year over year.
- Roswell: The median days to contract dropped to 31 days, down 26.2% YOY.
- Sandy Springs: The median price per square foot was $158, up 9% YOY.
- Tucker: The average sale price was $179,528, up 15.2% year over year.


Foreclosure Activity & REO Sales Trends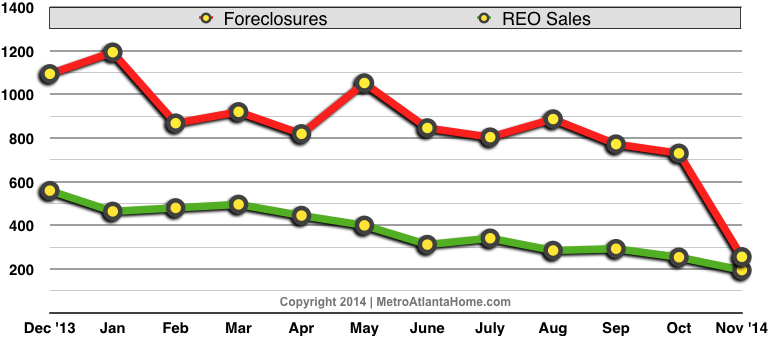 The red line represents the number of properties that were foreclosed on by the lender while the green line represents the number of foreclosed properties that actually sold during each month. As you can see, local foreclosures continue to decline as the real estate market has improved, resulting in lower REO sales each month. The number of pre-foreclosure notices have continued to drop over the past year as well, currently they're down 45.6% compared to one year ago. This likely means we will see a continued decline in foreclosed properties and foreclosure sales in the coming months.

Mortgage Rates & Leading Market Indicators
All the signs from recent major market indicators point towards a positive impact on the housing market for the remainder of 2014 leading into 2015. With mortgage rates likely remaining low and stocks hitting record highs, consumers have the ability to liquidate stock holdings and purchase real estate with extremely favorable interest rates still in place. Other than an uptick in the unemployment rate in late summer, moderate unemployment numbers have reduced job market fears aiding buyer demand for housing.

Mortgage rates for all loan types have continued their drop across the board reaching some of the lowest levels seen in the past year and a half. Many analysts expect the gradual rate decrease over the past year to hold at current levels if not drop slightly due to continued issues in European markets. Despite the strong jobs report at the end of November, interest rates dropped to start off the month of December sending mixed signals to many experts.
Indexes for 30-year mortgage applications show a 1.3% drop in purchases compared to one year ago and a 22.7% drop in refinance applications during the same period. Despite a continual decline in already historically low rates over the past year, purchase loan applications have continued to decrease which may signal a drop in home buyer demand. Applications to refinance existing mortgages have shown an upward trend in the past two months as rates have hit an 18 month low, allowing homeowners to reduce their interest rate and free up disposable income.


Stock Market Trends (Major Indexes)

The Dow, S&P, and NASDAQ indexes have shown strong gains over the past six months despite some volatility. As of December 10th the Dow is up 4.37% over the past six months with the S&P 500 posting slightly higher gains at 5%. The NASDAQ has been the biggest gainer putting up a whopping 9.5% increase in six months. In early December the Dow hit a record high of 17,991 before falling on the announcement of crude oil price drops. These very strong market numbers improve consumer sentiment and strengthen financial portfolios across the board.


Georgia Job Market Update

The seasonally adjusted unemployment rate in Georgia dropped to 7.7% in October, down from 7.9% a month earlier. Georgia's unemployment rate is still nearly 2% higher than the national unemployment rate of 5.8%. Statewide initial unemployment insurance claims in October were up 8.9% from the previous month, but are down over 18% compared to October 2013.


MetroAtlantaHome.com has taken all reasonable steps to ensure the information in this report is current and accurate, it cannot however guarantee the accuracy of information or that it is current. MetroAtlantaHome.com does not warrant or make any representation regarding the security, compatibility, reliability, accuracy, correctness or completeness of this report content. Real estate market data and trends in this report come from Corelogic and RealValuator. Mortgage rates and industry insights from bankrate.com and mortgagenewsdaily.com. Stock market quotes and charts courtesy of Google Finance. Labor market information obtained from the Georgia Department of Labor.