Metro Brokers Inks Zillow Deal
Posted by Metro Atlanta Home Group on Friday, November 21, 2014 at 8:59 AM
By Metro Atlanta Home Group / November 21, 2014
Comment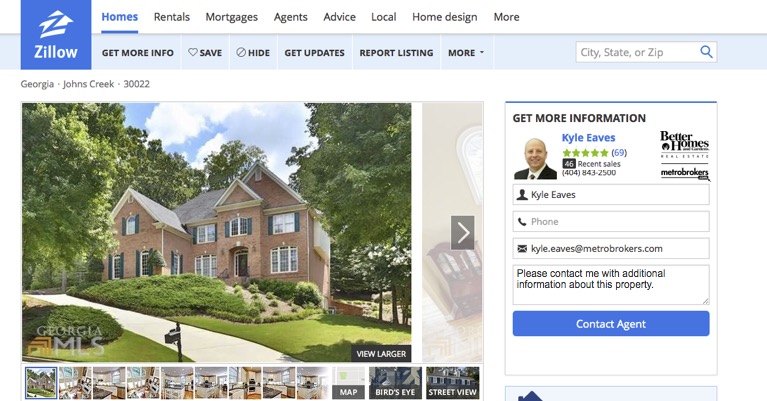 Zillow Partnership Brings Exclusive Agent Presence
Zillow is currently the undisputed leader in domestic real estate search traffic, so it made perfect sense for Better Homes and Gardens Real Estate Metro Brokers to sign an exclusive partnership agreement for all company listings. The deal was finalized last month and was designed to give Metro Brokers' agents sole agent presence on their listings, making the listing agent the go-to resource for property information.
Partnership Benefits For Home Buyers
The partnership provides Zillow users with a better experience when inquiring about a Metro Brokers listing on both the mobile, and the desktop versions of the site. When calling or submitting an email inquiry, users are now put in direct contact with the actual Metro Brokers listing agent, not a handful of rookie agents paying for exposure. Buyers will appreciate getting the information they need about a property without being hounded by multiple agents, all of which are only concerned about picking up new business.
Removing the advertising agents from our listings reduces the on-page clutter and eliminates the confusion of who to turn to for additional listing information. After all, who knows more about a home for sale? The listing agent who is working directly with the seller, or the agents paying Zillow big bucks to appear next to random listings in hopes of picking up business? By eliminating all but the actual listing agent, we've provided a direct route for home buyers to get the best information on all BHGRE Metro Brokers listings.
Partnership Benefits For Sellers
The benefit for our sellers is even greater. Not only do Metro Brokers listings solely feature the agent hired to represent the property, but our listings also get priority status as a Featured Listing for the first 60 days they're on the market. This means our clients' properties get more exposure and stand out from the competition. Zillow estimates the exposure for featured listings is triple that of non-featured listings, so this is a must have if you're serious about selling your property!
If you're ready to get started on your next purchase or sale, fill out our
online contact form
or call us directly at
(404) 513-5987
. We look forward to serving your real estate needs!