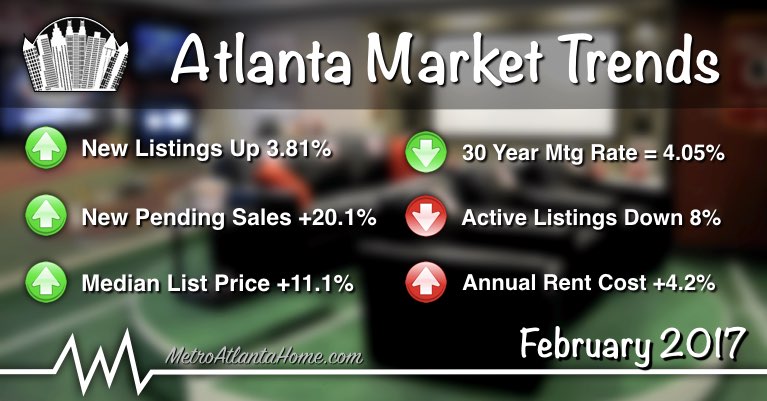 The Atlanta real estate market has already started to take off in 2017, led by a jump in list prices, which spiked 13.7% from the year prior. New listings are being priced higher because inventory is still down (-8% YOY), and demand from homebuyers remains strong. A recent drop in mortgage rates has only encouraged buyers looking to participate in the upcoming spring buying season. Sale prices continue to increase, days on market remain low, and more homes are selling than last year… all signs that Atlanta's housing market is showing no signs of slowing down just yet.
Atlanta Housing Market Tidbits
Highest price home sold: $4,000,000
Lowest price home sold: $4,000
Most total days on market: 885
Largest home sold: 22,054 sq/ft
Total dollar volume sold: $1,167,109,504
Average estimated home value: $173,300
One year price forecast: $181,618


Metro Atlanta Housing Trends
The market data and housing statistics contained in this report come from FMLS and CoreLogic. Unless otherwise specified, the market trends in this report are based off of single family attached & detached properties listed on FMLS. MetroAtlantaHome.com has taken all reasonable steps to ensure the information in this report is current and accurate, it cannot however guarantee the accuracy of information or that it is current.
Average Sale Price Up 5.2% From Last Year
Just as we've seen in the past, the average sale price was down in January, compared to the month prior. The five percent month over month decrease may seem drastic, but it's...