My List Of Top 10 Buckhead Restaurants
Posted by Metro Atlanta Home Group on Wednesday, August 12, 2015 at 5:00 PM
By Metro Atlanta Home Group / August 12, 2015
Comment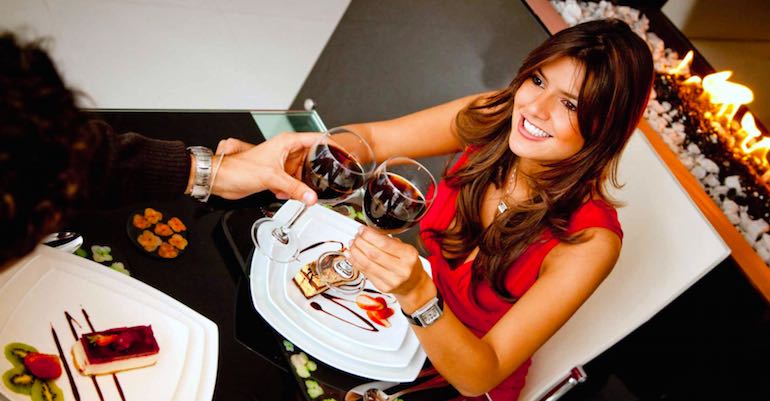 The Fine Dining Capital Of Georgia?
Known for its popular shopping, dining and entertainment options, Buckhead is Metro Atlanta's go to destination for fine dining. Not surprisingly, Buckhead's real estate market, filled with high-end homes and luxury condos, reflects the sophisticated tastes of those who call the area home. If you're in the mood for great food and an upscale dining experience, keep reading to learn more about the top Buckhead restaurants that made the list.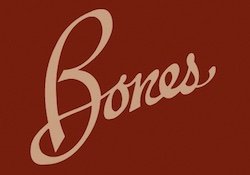 Since opening in 1979, Bones has become one of the most popular restaurants in Atlanta, and possibly one of the best in America. Steaks and seafood are the mainstay at Bones; prime beef, fresh fish, and Maine lobster, to be specific. Bones is widely considered the best steakhouse in Atlanta, receiving the Best of Atlanta Steakhouse each year since 1999.
The restaurant has also been recognized by Zagat as having the highest rating for both food and service of any steakhouse in America. Bones is open seven days a week for lunch and dinner (except most major holidays). The restaurant is a great location for special occasions and regularly plays host to business lunches and dinners.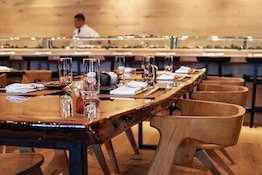 If sushi is your passion, then UMI Sushi should be your favorite place. With an intriguing mix of traditional and modern, UMI features dishes such as baked lobster tempura, sautéed foie gras, and, of course, classic and inventive sushi rolls made from the freshest fish and highest quality ingredients.
The restaurant itself is elegantly designed to reflect the purity and cleanliness of authentic Asian faire. Enjoy a traditional sake or your favorite cocktail from their full bar and robust drink menu. UMI is open for dinner six days a week (closed Sunday); reservations can be made online or by phone at (404) 841-0040.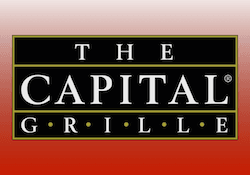 When you step inside the doors of The Capital Grille, you know you're someplace special. The décor is warm and understated, providing a comfortable backdrop for the amazing food. The menu features artfully prepared dishes utilizing only the freshest ingredients.
Known for their dry-aged steak, fresh seafood, salads, burgers, and one of the best selections of wine around, The Capital Grille is a perfect place to celebrate a promotion, anniversary, or other special occasion. Open lunch through dinner on weekdays, dinner only on weekends; valet parking is available.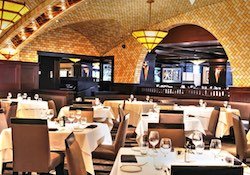 Part of the Buckhead Life Restaurant Group, Chops is an Atlanta icon known as one of the top ten steakhouses in the country. The décor is classic steakhouse, with dark wood, high ceilings, and muted music. The steak is of the highest quality, and the seafood is flown in daily, guaranteeing freshness.
Chops has a long list of awards under its belt, most notably Zagats Most Popular Atlanta Restaurant. Chops has been voted Best Restaurant, Best Steakhouse, and Most Popular Restaurant in many local publications for many years. If you're searching for an experience, Chops is the way to go.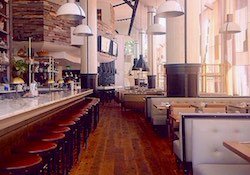 St. Cecilia is one of Atlanta's newer restaurants, serving up European style food inspired by the plates of Italy, Spain, and France. Open only since 2014, St. Cecilia's has quickly become a mainstay in Atlanta fine dining, garnering acclaim from all facets of Atlanta.
Though the menu is wide and varied, lovers of seafood and pasta will find new favorites among the many choices, such as octopus, burrata, Maine sea scallops, handmade pasta, squid ink spaghetti, and gnudi. Everything, including sauces and cheese, is made in-house. So if you're craving Italian, seafood, or anything in between, St. Cecilia's is the place for you.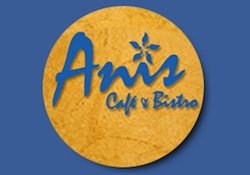 Since opening in 1994, Anis Café and Bistro has become one of Atlanta's favorite French restaurants. Their goal, according to their website, is to transport their guests to the south of France. They accomplish this goal by decorating their space, an old house, into something akin to what you'd find in Provence.
Their menu echoes that Provencial feeling, as well, as their chef grew up in the south of France and fondly recalls his old family recipes. Local ingredients and vendors are used to ensure the highest quality and the most authentic foods go into each meal. So if you're searching for a slice of France, you'll find it at Anis Café and Bistro.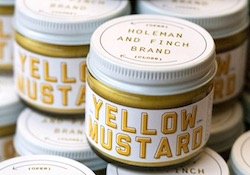 There's something to be said for a restaurant who does classic American right. From their extensive craft beer, wine, and whiskey menus to the simple yet classic presentation, Holeman & Finch is new comfort food. The menu offers snacks such as deviled eggs, bacon caramel popcorn, pimento cheese, and creole spiced pecans.
The menu moves on to offal (parts), charcuterie, firsts, cheese, plates, and vegetables. Holeman & Finch is located in the bottom of the Aramore Condo building on Peachtree Road. Dining hours are Monday - Saturday from 5PM until late, brunch and lunch every Sunday from 11:30AM - 5PM.


Watershed on Peachtree (CLOSED)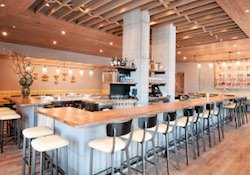 Watershed is one of Atlanta's most beloved restaurants. Owned by Emily Saliers of Indigo Girls fame, Watershed strives to serve delicious, classically southern food while keeping an eye on organic and locally grown ingredients. Earning a James Beard Award was just the beginning for Watershed, and in 2012 opened the new location on the street level of The Brookwood.
Enjoy your meal on the patio, in a private dining room, or have a drink at the bar while watching the world go by outside on Peachtree. Menu highlights include roasted Georgia quail and country sausage, chicken and dumplings, shrimp and grits, and pulled pork shoulder. Watershed on Peachtree is open for lunch and dinner, and every Sunday offers a jazz brunch.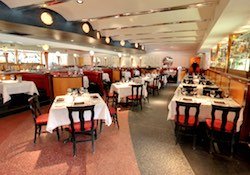 Pricci combines classic Italian flavors with fun, fresh ingredients and a casual setting. One of the best things about Pricci, other than the stellar service and amazing food, is the atmosphere itself. It feels alive and exciting, and being located in the bustling center of Buckhead probably has something to do with that.
Menu highlights include homemade pasta, pizza, entrees, and several different kinds of risotto. Located on Pharr Road, Pricci is open Monday - Friday for lunch, and Friday - Sunday for dinner. With space available for private parties and functions, Pricci is the perfect place to plan your next luncheon, dinner, reception or business meeting.