Top Atlanta Real Estate Schools
Posted by Metro Atlanta Home Group on Wednesday, July 29, 2015 at 8:00 AM
By Metro Atlanta Home Group / July 29, 2015
Comment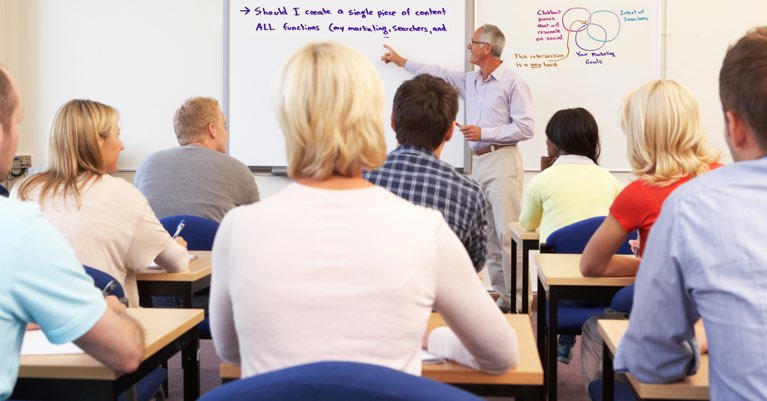 Real Estate Education & Training
Whether you're currently an agent looking for continuing education (CE) classes, or someone just getting into the real estate profession needing pre-license courses, finding the proper training is key. However, identifying the best school for your needs can be challenging. Education isn't cheap, and some programs charge extra for the prep courses or cram courses that you may need. In this article, I've listed my top real estate schools in Atlanta. Plus, you'll also find a brief description of what each offers.
To start a career selling residential and/or commercial realty, you'll first need to complete the proper training and pass the state licensing exam. This is one of the first of many steps to becoming a successful real estate agent. With the cost of most salesperson pre-license courses at reputable schools starting around $375, you should thoroughly research your options before enrolling in a program. Most importantly, you should always verify the school is approved by the Georgia Real Estate Commission (GREC) and consider checking out their reviews on sites like Google or Yelp.


Online Pre-License Courses & Continuing Education (CE)
If you're looking to get your Georgia real estate license quickly, check out the various pre-license training packages available from our education partners at Real Estate Express. Their online courses give you the flexibility to complete your training when it's most convenient for you. Unlike classroom courses, you can learn at your own pace, so you don't have to worry about getting left behind. Best of all, they offer a pass or don't pay guarantee! This is the fastest and most affordable way to obtain your real estate license in Georgia.
If you're an agent needing to complete your post license training or fulfill your 36 hour renewal CE credits, Real Estate Express & McKissock learning have you covered. They offer complete renewal CE packages that include all the license law, ethics training and elective courses needed to renew your real estate license. If you're only short a couple credit hours, you can simply purchase individual continuing education courses, as needed.

---

My List Of Top Real Estate Schools In Atlanta
There are literally hundreds of Georgia Real Estate Commission approved schools throughout the state. You'll find a link on the GREC website to download the most up-to-date list. However, the companies below are my picks for the top schools serving the Metro Atlanta area (listed in alphabetical order):


Atlanta Partners Real Estate School
A popular choice among aspiring Keller Williams agents, Atlanta Partners Real Estate School is one of the fastest growing academies in Georgia. Their in-class training programs include: salesperson pre-license, post-license, cram course and continuing education, as well as broker pre-license courses. They offer multiple tuition payment plans to help defer some of the upfront costs of their in-class pre-license course. With no hidden fees, and campuses throughout the Metro Atlanta area, it's no wonder they've become such a popular choice for new agents.
Their affiliation with Keller Williams Realty Atlanta Partners allows students who join the brokerage to get reimbursed for the cost of their paid pre-license tuition once they've successfully closed their first transaction. Classes are taught by a handful of instructors with diverse backgrounds in the real estate industry. Many of them have years of experience selling homes as Keller Williams agents themselves.


Barney Fletcher Schools
A division of Cape School Inc, Barney Fletcher has provided real estate education and training to thousands of students in the state of Georgia for more than a quarter century. From salesperson to broker, pre-license to post, they offer all the tools and resources needed to be successful in this business. As one of the largest academies in Georgia, they have daytime and evening classes available in multiple convenient locations throughout the north metro area (Alpharetta, Chamblee, Duluth, Marietta and Peachtree Corners).
Many of the Barney Fletcher instructors bring years of real estate sales experience and insightful anecdotes with them into the classroom. By hearing stories and situations from past transactions, their students have reported a better understanding of how the concepts apply "in the real world". This practical knowledge of real estate principals enables students to actually learn the material, not just memorize and regurgitate the information when it comes time to take a test.


Capitus Real Estate Learning Center (Previously GIRE)
The Georgia Institute of Real Estate (GIRE) is one of the oldest and most widely acclaimed realty education centers in Metro Atlanta, having been in business since 1959. In 2018, the company rebranded itself with a new name and new look; now Capitus Real Estate Learning Center. Still owned and operated by the Atlanta REALTORS® Educational Foundation as a non-profit, Capitus continues to provide expert real estate education and training to agents, brokers and community association managers throughout Georgia.
Classes are offered at three different locations (Cumming, Sandy Springs and West Midtown) with daytime, evening and weekend options available. They offer all the pre and post licensing courses needed for agents, brokers and community association managers, including essential pre-test CRAM courses. The experienced instructors and staff at Capitus pride themselves on their student pass rate, which is among the highest in Georgia.
When it comes time for license renewal, they have a variety of continuing education classes with topics designed for both residential and commercial agents. They also have code of ethics and license law classes available… Mandatory requirements for salesperson/broker license renewal.
In addition to all their licensing and CE courses, Capitus offers designations and certifications such as: Accredited Buyer Representative (ABR®), Certified Luxury Home Marketing Specialist, Military Relocation Professional (MRP), National Association of REALTORS® Green Designation, Senior Real Estate Specialist (SRES®) and more. They are one of the few academies in the area of offer designations and certifications in a classroom setting.


Coldwell Banker School of Real Estate
The Coldwell Banker School of Real Estate offers both pre- and post-license classes as well as continuing education for real estate professionals. With classes both in person and online, the Coldwell Banker School of Real Estate is at the forefront of real estate education. Classes are taught by experienced educators, all with years of experience.
Additionally, the Coldwell Banker School of Real Estate is now offering real estate designation courses, with some classes offered online and others in the Home Office Education Center. So if you're looking to become an agent or just continue your real estate education, why not choose one of the most recognizable names in the real estate world?


Georgia MLS Real Estate School
The Georgia MLS Real Estate School is for those wishing to become an agent, broker, or appraiser, as well as those looking to get post-licensed and continue their education. With three locations throughout Metro Atlanta, the Georgia MLS Real Estate School is convenient for everyone and ready to educate the next generation of real estate agents.
The pre-license course is offered in two sections, both of which must be successfully completed. Both are offered in person and online. If being a broker is your goal, the Georgia broker pre-license is offered, along with admission to the weekend cram course and a reference guide. The entire course is offered online, to be completed at your pace. Finally, if your goal is to be a real estate appraiser, numerous classes are offered.
A unique class that the Georgia MLS Real Estate School offers is the weekend cram, an all-inclusive cram class that further prepares you for the agent or broker exam, all for $50. The class will improve your test taking abilities and content knowledge by covering all aspects of the course, including a comprehensive test and evaluation session.


Metro Brokers Academy
Known as the #1 real estate school in Georgia, the Metro Brokers Academy offers top-notch training for prospective agents. With scholarships and tuition credits available for those who qualify, there can be one less expense involved with launching a new career. Best of all, they offer both daytime and evening classes in multiple locations throughout Metro Atlanta; so you're certain to find something to fit your busy schedule. If you need to get licensed quickly, check out their accelerated courses that allow you to complete the 75 hours of training in as little as two weeks.
New agents who join Better Homes and Gardens Real Estate Metro Brokers are automatically eligible for the Metro Brokers Advantage (MBA) program. This eight session course (plus final exam) covers all the basics, including: buyer needs analysis, showing properties, financing basics, writing contracts, handling escrow funds, obtaining listings, how to create a comparative market analysis (CMA), building a listing presentation, contract negotiation, preparing for closing and much more. Completing the MBA program meets and exceeds the 25 hour post-license education requirement for new licensees.
In addition to post-license training, Metro Brokers agents can also take advantage of free classes covering a wide variety of real estate topics. While the course calendar changes each month, regular topics include: success with open houses, license law, lead generation, business planning, leveraging technology & company tools, mastering appraisals and countless others. This allows associates to continually build their industry knowledge and sharpen their sales skills, without the burden of additional costs and fees.
New BHGRE Metro Brokers agents looking to jump start their career opt for the X-celerater training program. Along with a robust marketing startup package, X-celerater associates receive personalized mentoring and coaching from industry veterans. With the proper strategies and goals in place, not to mention the accountability factor, it's no wonder X-celerater associates average nearly six times as many closings in their first year, compared to the national average for new licensees!
Questions About Upcoming Classes?
More About Real Estate Training In Georgia
Georgia real estate schools offer courses on everything from basic principals to advanced selling techniques, as well as various designations & certifications. Schools must be approved by GREC to provide training in one or more of the following curriculums: Broker Pre License, CAM Pre License, Instructor Education, Real Estate CE, Real Estate Law, Salesperson Post License, or Salesperson Pre License. Visit the GREC website for a complete breakdown of the licensing requirements for agents, appraisers, brokers, CAMs and course instructors.
For those seeking to become an appraiser or maintain/renew their current classification, they'll need to find a school that is approved by the Georgia Real Estate Appraisers Board (GREAB). Accredited schools may provide training in one or more of the following courses: Appraiser CE, Instructor Education, Qualifying Course, Supervision, or Uniform Standards of Professional Appraisal Practice (USPAP) and USPAP Pre License.
New Agent Training Requirements
Proper education and training are essential because a career in real estate is sink or swim, with most new agents getting out of the business within their first year. For those looking to get started selling real estate, the Georgia Real Estate Commission currently requires the completion of a 75 hour pre-license course. In addition, perspective agents must pass an examination administered by AMP that is approved by the Commission. These are merely the first steps on the path to becoming a top Atlanta real estate agent.


Frequently Asked Questions (F.A.Q.'s)
1. How do I find real estate schools near me?
If the schools mentioned in this article don't have a location that is convenient for you, try searching "real estate schools in (zip code/city)" or "real estate classes in (zip code/city)" using your location (or via GPS, if enabled) on Google Maps. Once you've found a school nearby, visit their website or call them for pricing and a schedule of upcoming course times & dates. Before you register, make sure to check the GREC website to verify they are approved to offer the training you plan to sign up for, and don't forget to read their reviews on Google or Yelp.


2. Are night/weekend classes available?
Yes, many schools offer courses on weekday evenings and weekends for those who are already working a full-time job. There are also various accelerated training classes that allow students to complete all their hours as quickly as possible.


3. Are there free real estate classes in Georgia?
If you're looking to become a real estate agent, there are some options out there for scholarships and tuition reimbursement. However, you'll typically need to join the brokerage affiliated with the academy to take advantage of the offer. The reimbursement usually occurs once you close a deal with that brokerage, so it could take some time before you're "paid back". Check out brokerages such as Keller Williams and Better Homes and Gardens Real Estate Metro Brokers for current promotions. These brokers also offer post license training and ongoing real estate classes to their agents, free of charge.
Note: You may also find other companies advertising free real estate classes for investing and property flipping. These "classes" are mostly just a sales pitch for much more expensive seminars and coaching sessions. Before you sign up to attend, I strongly suggest researching the person/company offering the event; even if the name advertised is well known in the industry. In recent years, we've seen popular reality tv stars attach their names to these types of sales seminars; often resulting in complaints from attendees.


4. Which is better? In-class training or an online course?
It ultimately depends on your learning style, but after talking to some of our career managers, the general consensus winner is the classroom option. Why? Probably because the online version requires more self-discipline and drive to fully complete. There are just too many ways to get distracted taking a 75 hour computer course.
However, I went the online route back in 2011 and successfully passed the state exam on the first try. I'll admit, flipping through the slides was pretty boring, but it was probably the best way for me to retain the information since I'm a strong visual learner. I know internet technology has improved tremendously in the past decade, so the effectiveness of online courses likely has too.


5. Do instructors have to be licensed and certified?
Yes. In order to teach at a real estate school, instructors must first complete a salesperson's pre-license course and a Commission approved instructor development workshop. In addition, during each renewal period, instructors must teach a minimum of 60 instructional hours at a Commission approved school and complete 36 hours of instructor continuing education.


6. How do I register to take the state test?
If you're looking to get licensed in Georgia, visit the AMP website and select the category (real estate), program state (Georgia), and examination type (broker, CAM or salesperson). You'll be directed to download the candidate handbook, list of testing locations, current fees, and information on how to register. Once you've verified your eligibility and found a convenient testing center, you can register online or call AMP to schedule your test date.


7. Is the real estate licensing exam in Georgia hard? How long should I prepare?
Personally, I thought it was fairly difficult… and that's coming from someone with previous experience working in the real estate industry (I worked with a residential home builder in Florida for two years, before moving to Georgia). I'd also taken the pre-license course two different times (once was in Florida while I was in college). In addition, I took a weekend cram course right before I sat for the state test, which really helped me prepare. I found the legal questions and situational scenarios to be most difficult, but many people report having trouble with the math questions.
My advice: Over study the materials on your own and also attend a cram course. Make sure you know the information inside and out before you take the test. You're better off being over prepared and passing with flying colors, rather than having to take a step back and spend more time and money to do it all again.


8. Is there a limit to how many times I can retake the state test?
No, but you'll be required to pay the full testing fee each time you take it (currently more than $120).


9. Can I transfer my real estate license from another state?
In most cases, yes; as along as your license is current (not lapsed or expired) and you aren't facing any disciplinary actions. However, you must have passed a state administered exam for the type of license you seek in Georgia to be eligible for reciprocity. NOTE: Florida license holders must take and pass the Georgia Supplement Exam to qualify for reciprocity. For a full breakdown of the eligibility requirements and to download the application for a reciprocal license, please visit the GREC website.


10. When can I take the course to become a broker?
Salespersons who have been actively licensed for at least three of the past five years are eligible to become a broker. This means the individual must be at least 21 years old to get their broker or associate broker license. The broker pre-license course (60 hours) and state examination may be taken at age 20, but the license can't be activated until the applicant turns 21.