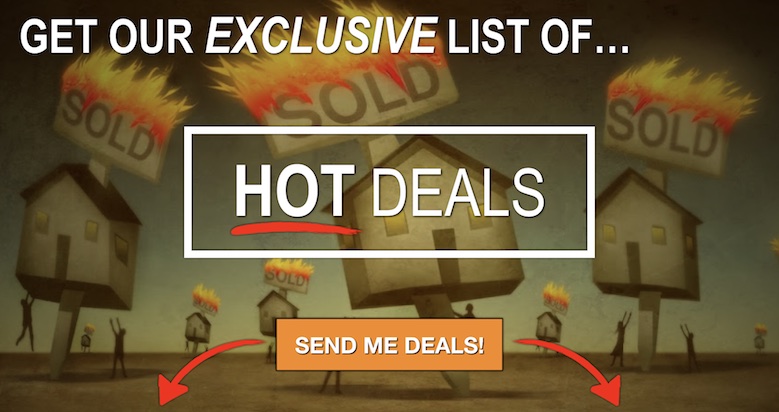 ---
Frequently Asked Questions
1. Why do I need to register?


Our list of deals is only available via email to our subscribers, so you'll need to complete the form above using a valid email address to start receiving deals. Our custom list of deals takes considerable time for us to put together, so we don't make it available to just anyone.
By registering, you'll have exclusive access to information that most others won't. If you decide you no longer want to receive hot deals from us, you can easily unsubscribe at any time. However, as long as you're in the market to buy real estate in the Atlanta area, we feel this list will be a valuable resource for you.


2. How should I use the list?


Whether you're a savvy investor, or even a first-time homebuyer looking to score a deal, we think this list is an excellent starting point for identifying value in our local market. With more than 1,000 new listings going live each week throughout Metro Atlanta, there's no easy way for most people to quickly identify the "deals". We do the heavy lifting and narrow it down to the top 100 under priced homes, then sort the list by their estimated discount.
This gives you an excellent starting point when you're hunting for under priced properties. We even include the current list price, property location (county & zip), and the number of beds and baths. This way, you can rule out properties if they're not in your price range, in the wrong location, or don't have the right number of beds and/or baths. Simply use the MLS listing number provided to quickly search and view each property on our website.


3. Are the estimated values accurate?


The short answer… Yes and no. The long answer… There's truly no way for a computer algorithm to accurately determine an individual property's value using data alone. After all, one of the biggest issues these automated valuation programs face is bad data. Ever heard the expression, "Garbage in, garbage out"? In addition, valuing a home is more than simply calculating price per square foot, counting beds/baths, and factoring in local market trends.
To truly determine a home's value, you also need to consider the home's condition, upgrades, style, lot location, neighborhood makeup and more. There are also dozens of other immeasurable factors that need to be considered when determining what a property is worth, or what a buyer would be willing to pay for it in today's market.


4. Are estimated values the same as an appraisal?


NO, the estimated values provided in our reports should NOT be considered an appraisal. Do not rely on estimated values in lieu of an appraisal. In addition, the market value as listed in the tax records (determined by the county property appraiser's office) is also NOT the same thing as an appraisal. Tax record market values are only calculated once per year, and are notorious for being wildly inaccurate.
The most accurate way to determine a property's true market value is to hire an experienced property appraiser to do a thorough evaluation of your home. When considering an offer on any property, do not rely or base your offer solely on the estimated values contained in this report.


Blog Posts You May Enjoy...