---
About The Duplex Home Style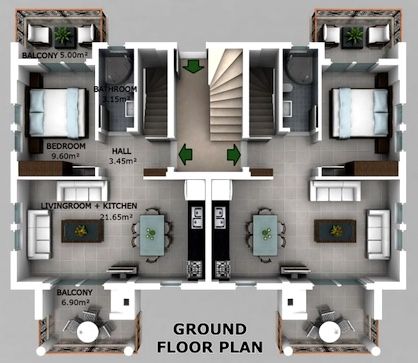 A duplex, or duplex home, is a structure which contains two separate housing units, designed in such a way that two families can live under one roof with complete privacy. For this reason, they're often referred to as multi-family homes.
Duplex homes are very popular in almost every part of the US, especially near big cities. Many people use the term duplex home to refer to any type of structure where up to four living units are connected by a central wall. Although this is not completely accurate.
Common Characteristics Of Duplex Homes
Common firewall, either separating two stacked apartments or separating two side by side two story units
Ownership interest typically covers both units, but can be subdivided to create two separate properties
May be listed for sale as "residential", "multi-family" or "commercial" since they can be purchased for diverse reasons
Two separate entrances
Two separate driveways
Shared outdoor common areas such as a front yard or backyard
Each unit is typically a mirror image of the other
Built using a variety of affordable materials and designs
Countless floor plans with endless opportunity for customization
No prevailing architectural style
More About Duplexes
Privacy and footprint size are two advantages of the side by side style duplex. Because the construction separates the private living spaces, bedrooms and bathrooms are isolated from the common areas. The side by side living arrangement can be an ideal situation for a family that wants to live close to aging parents, yet still maintain their privacy.
When purchasing a duplex, you'll want to make sure that the house is soundproof, especially with regards to the barrier wall, which will either be above, below, or in between the two main units. This is especially true if the house is a single family home.
Investment Opportunity
Duplexes may well be one of the most affordable and sought after types of properties for first time home buyers. A lot of people see the value of buying a duplex to live in one unit while renting out the other to reduce the overall cost of home ownership. Duplexes are considered an excellent way for investors to get their feet wet as landlords, because the owner can usually manage the property personally.
If the landlord lives in one unit and rents out the other, management is even easier. It's easy to see why a duplex is such a popular house style. If you buy the right structure and establish a long-term plan, a duplex can be a real moneymaker.


---