Staging Your Home To Sell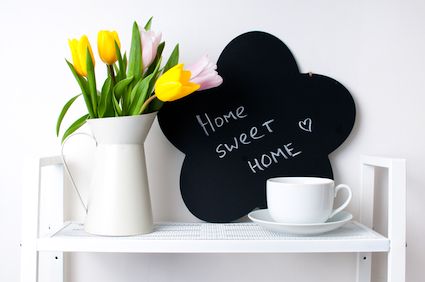 Properly staging a home can make a huge impact on the price and speed in which the property sells. Staging enhances the look of your home and most importantly, allows buyers to visualize themselves living there.
Spending the time and money on staging typically pays huge dividends in the end, therefore, is an important factor to consider when selling your home.
Do-It-Yourself vs Hiring A Professional
Hiring a professional staging company can be helpful if you're totally clueless when it comes to design and making a home look good. These companies can also provide items to stage the property (usually at a monthly fee) which can save you time and money. This page features great tools and staging advice to help give you inspiration and ideas on what you can do to improve the look of your home... if you're not hiring a professional.


Top Staging Resources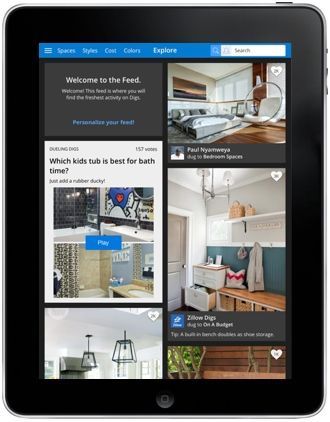 Finding your inspiration is easy with millions of photos and designer advice right at your fingertips. Now you can browse at home or on the go!
A website focused solely on home design, decorating, and remodeling ideas from thousands of industry professionals. You can browse millions of home photos and designs by room, style, location, cost, and more. Find trendy new home products and design professionals in your area to help make your home a one of a kind. Also available on mobile devices with the Houzz App.
Where To Find Staging Accessories
If you need to purchase items to stage your home, you may have to visit a few different places to find everything you need. Look for great deals at stores like TJ Maxx, Ross, Michaels, Homegoods, IKEA, Target and Marshalls. Finding the best deals on items that will look great in your home can take time, so start the staging process early. Remember, many of these stores have very lenient return policies on items that are gently/hardly used… wink wink.


---
Staging A Kitchen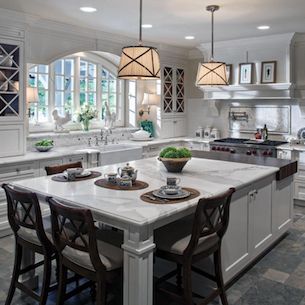 The kitchen may be the most important area to focus on when staging your home because it is a huge selling point for most home buyers. Clean, functional, updated kitchens are a huge hit with today's buyers.
Remember, a staged kitchen is usually not a practical kitchen, so you may only be able to keep it perfectly staged long enough to take the listing photos, unless the house is vacant.
Kitchen Staging Tips:
Do a deep clean of your entire kitchen, really make it shine. This means scrubbing the baseboards, cabinets and inside/around the refrigerator. Polish chrome fixtures, cabinet hardware and stainless steel appliances. Also, clean or replace stove knobs and the drip pans beneath burners.
Install under cabinet lighting and make sure all light bulbs overhead, above the stove, and inside your refrigerator are working. Let in as much natural light as possible and make sure windows are not blocked.
Pack up your photos, magnets and anything else attached to the refrigerator. These will have to wait until you find a new home to go back up.
The counters should be empty except for a few essentials such as a cookbook, a colorful bowl of fruit and/or various decorative items. Don't go overboard, you only need a few things because you don't want the countertops to appear cluttered.
If you would like to put out small knickknacks, arrange them in odd groupings of 3, 5, or 7 items.
If you've got pot racks, either remove them or only hang 3 of your best (very clean) items on them. Overuse of pot racks signals a lack of storage space to buyers.
If you have a kitchen island with room for seating, have stools or chairs in place. This lets buyers know the kitchen is a great place for socializing while cooking.
Don't have an island? If your kitchen is on a single wall or is very large with lots of floor space, consider getting a rolling cart with a nice wood top and storage underneath to break up the room.
Organize your cabinets and remove glasses and dishes that aren't essential. You should try and create as much space in the cabinets as possible so they don't look small for buyers. Also, alphabetize the spices in your spice rack and discard any that are nearly empty.

Staging Bathrooms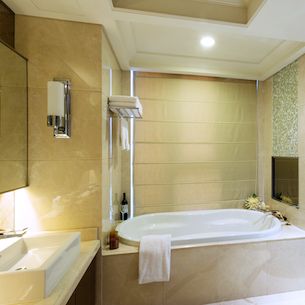 While buyers probably won't spend a ton of time hanging out in your bathrooms admiring them (unless they're really something special), these rooms can play a big part in a buyer's decision.
In the short amount of time they'll be looking at your bathrooms you'll want to make a good impression. Do this by creating a spa-like ambience that home buyers will not be able to resist. This is especially important in the master bathroom.
Bathroom Staging Tips:
Paint all the trim and doors white. This will freshen up the space and create a more contemporary look. Make sure metal finishes in the bathroom are matched for things like shower fixtures, sinks, towel racks, toilet paper roll holder, etc. If possible, try and match up soap dishes, cups and any other accessories in the room.
Store your Q-tips, cotton balls, bath salts, small soaps and other items in attractive containers.
Place a clean new rug next to the shower or bathtub. Otherwise the floors should be clear to help maximize the space in the room.
Put out a row of decorative candles along a shelf or edge of the bathtub. Use battery operated votive candles during showings to enhance the mood.
Go with a crisp white or other soft neutral color shower curtain, make sure to leave it open partway. A glass door is even better since it allows you to see into the bath making it appear even larger.
Fold towels lengthwise into thirds to keep edges from showing and arrange them neatly on the towel rack. Hang a hand towel of the same or coordinating accent color over the bath towels for a clean look.
Fill a small basket with sea sponges, bath salts and bath brushes to place on the corner of the vanity if there is room.
Update cabinet hardware that appears dated or damaged. Make sure the new hardware matches the other metal finishes in the room.
Remove prescriptions and other personal items you would prefer buyers not see from the medicine cabinet.

Staging Bedrooms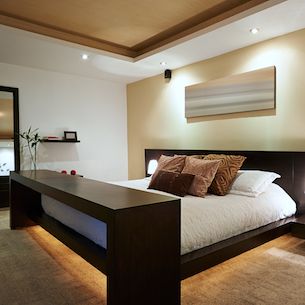 The bedroom will be the buyer's sanctuary and place of relaxation, so make sure to convey this sense of calmness in the appearance of the room. With the master bedroom you should shoot for calm luxury while guest bedrooms can exhibit gracious hospitality.
With each room you should consider who will be using it to properly match the user's need to the right ambiance.
Bedroom Staging Tips:
The master bedroom should be appealing to both sexes, so don't make it too feminine or masculine with your staging. Paint the room a neutral gray with a slightly darker or lighter tone of the same shade in the master bath.
Place the bed against the longest wall, preferably opposite the door if possible. For smaller bedrooms, use a double bed instead of a queen or king sized bed. Make sure to dress the bed with a bed skirt and add plush pillows with a variety of textures and soft colors.
Use wall art sparingly and don't hang it on walls with windows. If you've got a nice mirror, hang it opposite a window so the light can be bounced back into the room.
Window treatments should give the room a light and airy feeling. Sheers across the window with drapes hanging on each side will give a feeling of elegance while also providing privacy and plenty of light.
Place matching (or very similar in size and material) bedside tables on each side of the bed with similar lamps on each of them if there is enough room. You can add a few accessories to the tables like a clock, a few reading books or a vase of flowers, just don't overdo it.
In larger bedrooms, add a comfy chair with reading lamp for a cozy reading area.
If you've got enough space, place a dresser with mirror and tall chest of drawers in the room to complete the look of a bedroom. Make sure there is plenty of space for visitors to move around and the room does not appear cramped.
If you've got a television in the room, hide it in the armoire or remove it all together while your house is on the market. Make sure to organize the master closet and store out of season clothes. Reducing the volume of clothes and "stuff" in your closet will help it appear larger.

Staging The Living Room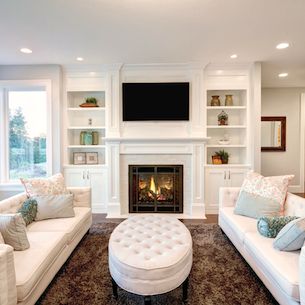 Buyers are likely to spend a lot of time in the living room, especially those with families. Many modern day homes are centered around the living room which makes it a multi-use space for relaxation and entertainment.
Allow buyers to envision themselves spending quality time with family in the living room and being able to entertain guests here. Shoot for a warm and inviting space with personal connections in mind.
Living Room Staging Tips:
Furniture should be arranged in vignettes, this creates conversation areas within the room. Place one or two chairs facing towards or beside the larger sofa to create these conversation areas. If there is a fireplace in the living room, your sofa and chairs should be centered around it, but make sure not to block the fireplace or obstruct traffic paths through the room.
Hang a nice piece of framed art above the fireplace mantle, make sure to measure the piece and center it above the fireplace. The fireplace mantle can also be accessorized, preferably with tall objects such as candlesticks, a vase with flowers or even simple structures. A good display will be asymmetrical and compliment the rest of the room.
Make sure not to block the window(s). If the main window is the focal point of the room, use the same technique as described previously to arrange furniture into conversation groups.
As with other rooms in the house, plenty of light is key. Lamps are great to have in a living room, so include at least two if there's space while making sure they're on during showings. You can use these lamps to illuminate dark corners and install higher wattage bulbs as necessary to balance out the light in the room.
Feel free to use brightly colored accents to liven up the room. Bring in plants, flowers, pillows, and even throws to add some color to the room. Any accessories added should be of like kind and color. Upholstery colors should remain neutral, but provide contrast with wall colors and flooring.
Paint moldings white with a semi-gloss unless they're a natural wood with stained finish. When moldings contrast surrounding wall colors it causes them to stand out more and highlight the architectural styles of the room.
Place mirrors on the walls to add depth and dimension to the room, these will also reflect light from the windows and help brighten the room.
If you've got an empty corner, bring in a large leafy plant to add life and natural color to the room.

Staging The Dining Room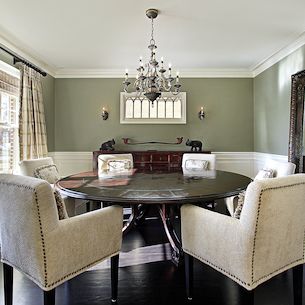 The dining room is where people gather to entertain and celebrate. While not used frequently in many homes, the dining room is important for buyers looking to host gatherings of family and friends.
It's a relatively easy room to stage as long as you don't go overboard, so remember to keep it simple. Here are some great tips for staging your dining room:
Start with the placement of your table. In a smaller dining room you'll want to place it in the center of the room on a rug. If there is a chandelier, you'll want to center it under that. If the dining room is large and very long, you'll need to put the table at one end and a second arrangement at the other, just make sure the table is centered.
Most homes with standard sized dining rooms and tables will only require four chairs. Use only four to keep the room from looking crowded, even if your table can fit more. If your dining room is banquet sized with a large table, use enough chairs to fill the table without overcrowding.
Cover dated or unattractive dining tables with a solid color table cloth that complements the colors of the room. Polish chairs and reupholster cushion fabrics that are dated with neutral colors or soft patterns.
If you don't regularly use your dining room, set the table for two to four guests. Choose your nicest dinnerware, silverware, glassware, and cloth napkins. Add a centerpiece such as flowers, a bowl of lemons or other fruit, or a simple arrangement of candles depending on the mood you're going for.
Remove heavy draperies to let in additional light. If you've got a wall facing a window, add a mirror to reflect light from the window back into the room as well.
If there's room, add a buffet table with a dramatic arrangement of flowers for elegance and beauty. You can add a framed mirror above the buffet table that is approximately 2/3 to 3/4 of the size of the table.
Make sure any accessories added to the room are in scale with the size of the room and furniture within.