About The Split-level Home Style
Unlike the single level ranch, split-level homes feature a more innovative design where the floor levels are staggered, creating two levels of living space in part of the home. Typically, the front entry opens into the main level, which is halfway between the upper and lower floors. The main level often features common living areas, including a living room, dining room, kitchen, and deck off the back.
There are two half staircases, one running upward to the bedroom level and one going downward to a basement level, which is usually finished off as a family room. The basement level often features a laundry room, a garage, and is level with the driveway.
Common Characteristics & Features Of The Split-level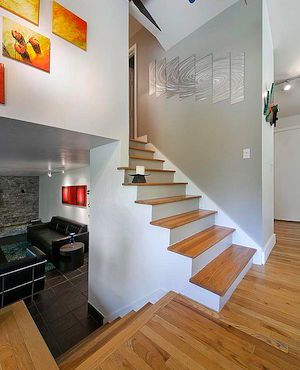 A low pitched roof
Deep-set eaves
Horizontal, rectangular, or L-shaped orientation
Asymmetrical façade
Double hung windows and a large picture window
Integrated garage
Either side-split or back-split
Multiple attics with space for storage
Lower level off kitchen, great location for family room
Crawl space under part of the home
Large living areas, formal dining room
Natural materials, including hardwood floors, wood and brick exterior
Minimal decoration, such as shutters
More About Split-level Houses
The split-level home typically ranges from 1500 – 1800 square feet, which lends itself to being a more affordable option for first time home buyers or small families looking to move to the suburbs. It's not ideal for people looking to avoid stairs, because of the multiple levels. One of the pros is a little more privacy versus a typical ranch.
Renovating & Updating
Renovations to a split-level can include bumping off the back of the house, where the deck is situated, for a larger kitchen and dining room area. New windows, siding, and even a front porch can easily update the appearance of a split-level home to give it a more contemporary look.


---